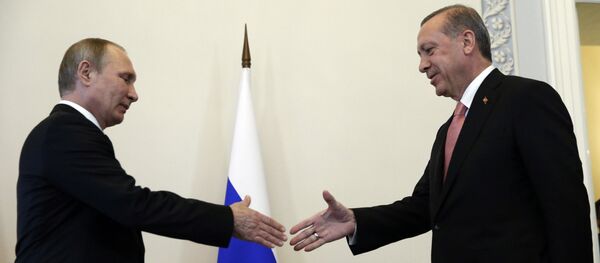 Erdogan said at the meeting with Putin earlier in the day that he was going to provide strategic investment status to the Akkuyu nuclear plant project. He also pledged to accelerate the Turkish Stream natural gas pipeline project, vowing to ensure a route for Russian gas exports heading toward Europe.
Putin in turn said Russia wanted to fully restore ties with Turkey and therefore is drafting a 2016-19 mid-term program of cooperation in economic, technical and scientific areas. He also added Russia will gradually lift the restrictions it had imposed against Turkish companies, and restoring charter flights between Russia and Turkey "is a matter of time."
According to Kandur, the immediate phone call that Putin made to support his Turkish counterpart Recep Tayyip Erdogan just after a coup attempt on July 15 in the country was an important step in the restoration of bilateral relations and cemented the rapprochement that had already started by that time.
"Most importantly the rapprochement began in June with the letter that Erdogan wrote. But the thwarted coup happened in the meantime. Vladimir Putin's immediate telephone to Erdogan cemented a process that had already begun," Kandur said.
Relations between Moscow and Ankara hit rock bottom last November after a Turkish jet shot down a Russian plane on the Syrian border. Their ties started warming up again after the Turkish president offered his condolences to the family of the slain Russian pilot in June.