RIO DE JANEIRO (Sputnik) — Wednesday saw 18 sets of medals being awarded in disciplines of cycling, whitewater canoe slalom, diving, fencing, gymnastics, judo, canoeing, shooting, swimming, table tennis and weightlifting.
The US Olympic team is leading in the overall ranking with 32 medals, including eleven gold ones. Russia is in the sixth place with 15 medals, including four gold medals.
Golden foil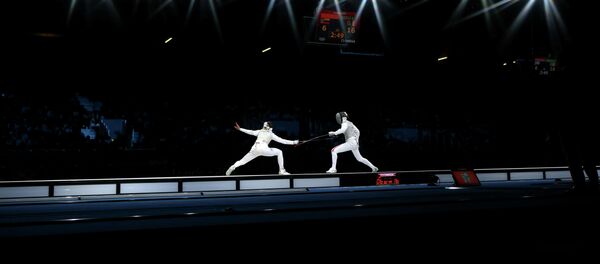 10 August 2016, 23:52 GMT
Russian foil fencer Inna Deriglazova has won gold at the Rio Olympics, beating Elisa Di Francisca of Italy with a score of 12:11.
"I was highly motivated, I guess. My coach convinced me that everything depends on me. The most important thing is not to hurry up and everything will come by itself. It is not worth hurrying up to collect shots, you should prepare everything and the result will appear. This is my golden foil. I started and finished with it," Deriglazova told reporters.
Rrussian cyclist Zabelinskaya becomes three-times Olympic champion
Russia's Olga Zabelinskaya on Wednesday took silver in the women's cycling time trial at the 2016 Summer Olympics in Rio de Janeiro and became the three-fold Olympic champion.
Zabelinskaya won silver after covering 29.7 kilometers (18 miles) in 44 minutes and 31.97 seconds. She was beaten by US cyclist Kristin Armstrong, who finished in 44 minutes and 26.42 seconds and gained gold. The bronze medal went to the Netherlands' Anna van der Breggen, who finished in 44 minutes and 37.80 seconds.
"When I realized that it would be a medal, I nearly went mad. If it was a gold medal, me and my relatives would have definitely gone mad," the cyclist told reporters.
Zabelinskaya won two bronze medals in women's individual road race and time trial at the 2012 Summer Olympics in London.
Bronze heat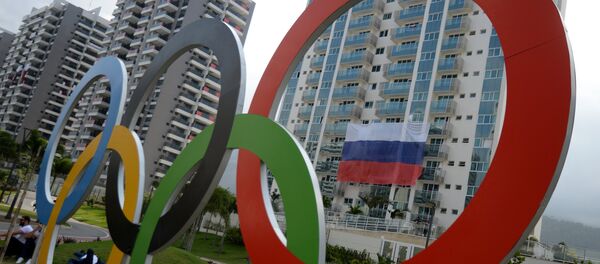 11 August 2016, 01:17 GMT
Russian swimmer Anton Chupkov has won bronze in men's 200m breaststroke, bringing the total Russian medal toll to 15 at the Rio Olympics.
"That was cool, I did everything <…> as it was agreed with the coach. It could be a gold medal, but these are my first Olympic Games and the first Olympic final. This is the bronze with a golden particle," Chupkov told reporters after the heat.
Chupkov completed the distance in 2 minutes 07.70 seconds. Kazakhstan's Dmitriy Balandin took gold, while American Josh Prenot won silver.