On Friday, the Russian Defense Ministry published video footage of the PAK FA Sukhoi T-50 fifth-generation fighter jet to commemorate Russian Aerospace Force Day.
The super stealth fighter jet reaches a max speed of 1,516MPH (2,440kmh) with an astounding battle range of 3,418 miles with maneuverability and combat characteristics leading most defense analysts to deem the aircraft better than America's F-22 Raptor which has long held the distinction as the most fearsome warplane to grace the skies.
​The PAK FA T-50 has been somewhat controversial in Moscow circles due to its hefty unit cost, exceeding $50 million per aircraft, which far exceeds the cost of other Russian aircraft although coming in at a bargain basement price and with far greater capabilities when compared to the budgetary eyesore that is America's F-35 stealth fighter. Not only does the T-50 have superior maneuverability compared to the F-35, but it also travels at a 30% higher speed with a range over 2,000 miles farther.
Although the debate rages on in Moscow whether the battlefield benefits of high-cost stealth aircraft technology is worth the money, the Russian Aerospace Forces will have the opportunity to put an initial purchase of a dozen such aircraft to the test in operational settings allowing Russia to garner more information before making a more expansive investment in the program.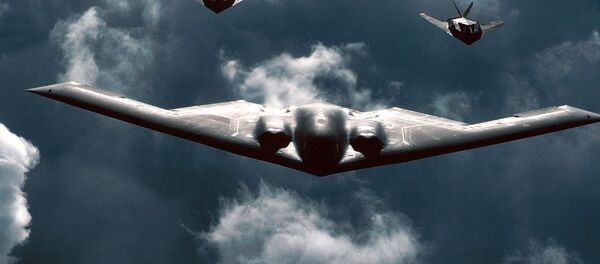 11 August 2016, 21:59 GMT
In June, the T-50 was deemed by defense industry sources to have "reached a stage where it's combat capable and ready for mass production and for use by the Russian Aerospace Forces."
The incredible video footage provided by the Russian Defense Ministry features not only the PAK FA Sukhoi T-50 fighter jet, but also highlights the MiG29KUB naval fighter, Yak-130 advanced jet trainer, Su-35S fighter, Su-33 naval fighter, Tu-95 strategic bomber as well as the Strizhi and Russkiye Vityazi aerobatic performance teams.