MOSCOW (Sputnik) — According to the BBC, the footage shows some 50 girls wearing headscarves and standing behind a Boko Haram militant who is insisting on the release of the militants in return for the girls. The militant with a gun slung over his shoulder forced the girl to ask the Nigerian government free imprisoned Boko Haram radicals.
"What I can say is that our parents should take heart…Talk to the government so that we can be allowed to go home," she said as quoted by the media outlet.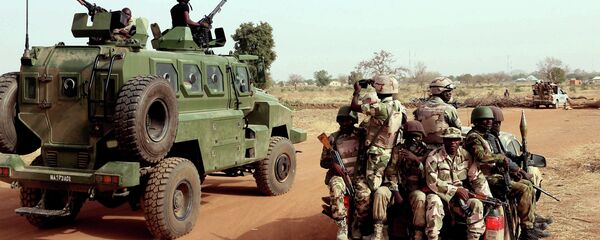 In April 2014, the Boko Haram militant group attacked a boarding school in Chibok, kidnapping 276 girls. Some of them managed to escape within hours after the kidnapping, but a total of 219 remain missing.
The Boko Haram extremist group began large-scale attacks in northeast Nigeria in 2009. Last year, the group expanded attacks into neighboring Niger, Cameroon and Chad. The extremist group pledged allegiance to Daesh, outlawed in Russia and many other countries, in March 2015.