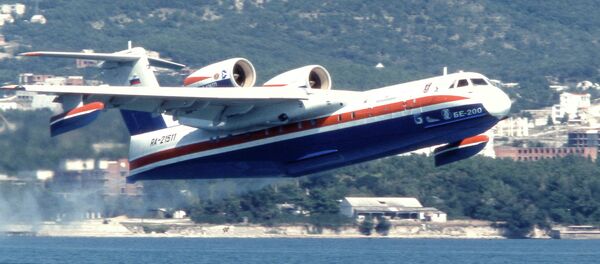 13 August 2016, 21:17 GMT
MOSCOW (Sputnik)
–
Earlier, the ministry sent two Russian Beriev Be-200 multirole amphibious aircraft, which arrived on Saturday and started work on extinguishing Portugal's raging wildfires on Sunday.
"A meeting between the Portuguese prime minister and members of the Russian Emergencies Ministry air group took place in Leiria. He thanked Russia for helping and praised the Russian rescuers' work," the ministry's spokesperson said.
The two Russian aircraft dumped over 200 metric tons of water over the forest fires, making a total of 17 water intakes, according to the ministry.
Costa has also thanked Italian and Moroccan crews, which also took part in firefighting operations.
The Beriev Be-200 and its variants are designed mainly for firefighting, search and rescue and maritime patrol missions, as well as transporting cargo and passengers. It can take in up to 12.5 metric tons of water in a few seconds while traveling over a water surface before dumping the water onto a fire.
Portugal has been experiencing wildfires for several days after temperatures rose to 35 degrees Celsius (95 degrees Fahrenheit). Five people died and over 300 have been hurt, according to the European Commission's Humanitarian Aid & Civil Protection (ECHO) agency.
Wildfires are frequent in the country during summer months. In 2013, tens of thousands of hectares of forests were destroyed.