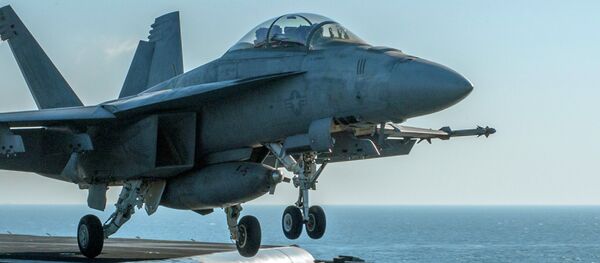 16 August 2016, 15:33 GMT
WASHINGTON (Sputnik) — Earlier in the day, Russia's Defense Ministry
confirmed
that Tu-22M3 long-range bombers and Su-34 strike aircraft took off from the Hamadan airfield in western Iran to conduct airstrikes against Daesh and Jabhat Fatah al-Sham — formerly known as al-Nusra Front — in Syria.
"It's unfortunate but not surprising or unexpected. And I think that it speaks to the continuation of a pattern that we've seen of Russia continuing to carry out airstrikes and now it appears with Iran's direct assistance that at last purport to target ISIL [Daesh] targets as well as Nusra targets, but in fact and we've seen this continually predominantly target a moderate Syrian opposition forces," Toner told reporters.
US Secretary of State John Kerry has raised US concerns with Russian Foreign Minister Sergei Lavrov in a telephone conversation on Tuesday concerning Russia's use of an Iranian airbase, Toner added.
"I can confirm that Secretary Kerry did speak to Foreign Minister Lavrov. I think this came up in some fashion," Toner stated on Tuesday. "I believe it was raised by Russian side. I think Secretary Kerry stated our concerns."
The US is evaluating Russia's activities in the wake of its use of an airbase in Iran, Toner said.
"I think we are still trying to assess what exactly they are doing to the extent that they are doing it," Toner stated. "It appears that they did use in some fashion an Iranian airbase."
The United State is looking into whether Russia has violated a UN Security Council resolution by deploying Tu-22M3 bombers and Su-34 strike fighters to an Iranian air base, the US Department of State deputy spokesperson said.