Tackling international terrorism is a short term goal, the former Navy captain maintained.
"Moscow's true and main goal is different. We need dozens of Russian attack planes and helicopters [in the Middle East] to provide air cover for our naval group in the Mediterranean," he suggested. "We did not have these capabilities for more than five decades, but we desperately needed them."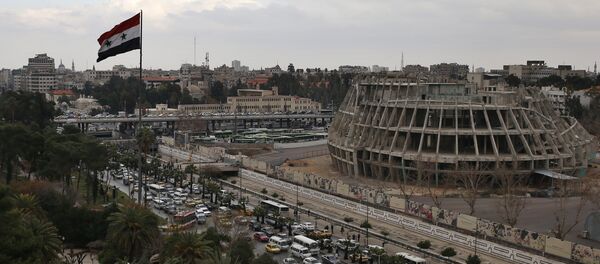 17 August 2016, 11:48 GMT
The Soviet Union maintained its 5th Mediterranean Squadron that was established to counter the US Navy's 6th Fleet from 1967 until 1992. Ishchenko described the flotilla that consisted of up to 50 warships and auxiliary vessels as a "force to be reckoned with." The analyst added that the lack of air cover was the squadron's only disadvantage.
"Fighter cover during the Soviet times was absent. We did not have aircraft carriers until the 1990s. The Kiev-class aircraft-carrying heavy cruisers were outfitted with several Yakovlev Yak-38 strike fighters, but these planes were not really suited for air combat," he explained.
The Admiral Kuznetsov aircraft cruiser
© Sputnik / Alexei Danichev
/
The Soviet Union reached an agreement to station warplanes in Egypt in 1967, but the arrangement lasted until 1972. In the last two decades Russia's only aircraft carrier Admiral Kuznetsov was deployed to the Mediterranean four times: in 1995-1996, 2007-2008, 2011-2012 and 2014. These missions lasted for a maximum of four months.
This situation changed when Russia and Syria reached an agreement that allows Moscow to use the Hmeymim air base for an indefinite period of time free of charge.
"Russia has deployed up to four Sukhoi Su-30SM supermaneuverable fighter aircraft to Hmeymim. They have been tasked with providing air cover for bombers and strike planes taking part in the counterterrorism operation in Syria," Ishchenko noted.
Russia, he added, apparently decided not to send more Su-30SMs to the region because there are no aerial adversaries that it needs to fight. If needed, additional deployment could be completed in approximately 24 hours.
Ishchenko maintained that there are grounds to assume that Russia is already using the Hmeymim base to protect its ships in the Mediterranean.
"For instance, the Tupolev Tu-142 maritime reconnaissance and anti-submarine warfare aircraft landed at Hmeymim in June. Clearly it did not land in Syria to fight against Islamists, but was busy performing its main task, searching for submarines of a potential adversary in the eastern Mediterranean," the analyst explained.