DUBAI (Sputnik) — On Monday, Dubai ports operator DP World and US-based Hyperloop One signed a Memorandum of Understanding [MoU], under which the feasibility of goods delivery via Hyperloop will be explored.
"The primary objective of the MoU is to work together, to clearly understand the economic benefits we can drive by increasing the capacity of the port, allowing it to handle an ever-increasing quantity of containers, to move them to a different location inland and to be able to do the handling and redistribution of those containers away from the dockside in a new inland distribution center," Rob Lloyd, CEO of Hyperloop One, said, as quoted by the Arabiab Business news outlet.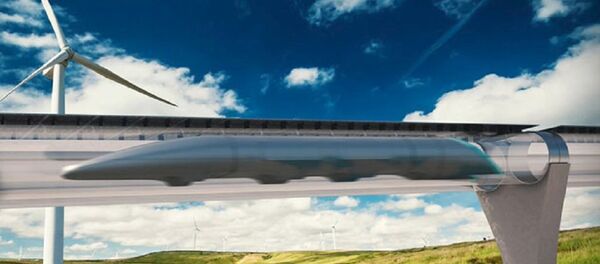 10 August 2016, 16:16 GMT
He added that the cost of project would be up to "hundreds of millions of dollars," but the exact economic value of the project is yet to be studied.
According to Lloyd, the primary study, stipulated by the Memorandum of Understanding, was expected to be completed in 90 days.
The Hyperloop concept was proposed by US billionaire Elon Musk in 2012. The technology provides for the high speed transportation of passengers and goods in tubes, in which light aluminum capsules are propelled by linear induction motors and air compressors.