KIEV (Sputnik) — The agreement was signed by URENCO CEO Thomas Haberle and Energoatom President Yuri Nedashkovskyi.
"The contract signed today will allow us to cooperate, on a mutually beneficial basis, with one of the world leaders in production and supply of the nuclear materials – URENCO. The enriched uranium, which the company will provide, will be used to produce nuclear fuel at a facility of Westinghouse Company in Sweden for the purposes of Ukrainian nuclear power plants. This contract is another consistent step by Energoatom to diversify nuclear materials and fuel supply to meet the needs of Ukrainian NPPs," Nedashkovskyi said, as quoted in the company's statement.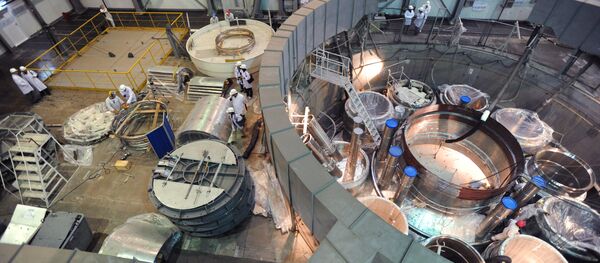 16 August 2016, 05:53 GMT
In turn, Haberle said that URENCO was pleased with the cooperation with Energoatom, adding that it was "looking forward" to making deliveries under the new contract.
According to the statement, UK Ambassador to Ukraine Judith Gough was present at the signing ceremony, and said that the United Kingdom, which co-shares URENCO, welcomed steps by Ukrainian authorities to strengthen the country's energy security and diversity of its energy supplies.
URENCO is a UK-registered company, equally shared by the British and Dutch governments, as well as the German energy companies RWE Power AG and PreussenElektra.