MOSCOW (Sputnik) – Maj. Gen. Igor Konashenkov said further use of the Hamadan airfield for Russia's anti-terrorist mission in Syria would be carried out in line with bilateral agreements with the Islamic republic and events on the ground.
"Russian military aircraft that took part in the operation of conducting airstrikes from Iran's Hamadan air base on terrorist targets in Syria have successfully completed all the tasks. Currently, all the Aerospace Forces aircraft involved in the mission are on Russian territory," he told reporters.
"Continued use of the Hamadan air base in the Islamic Republic of Iran by the Russian Aerospace Forces will be carried out on the basis of mutual agreements to combat terrorism and depending on the unfolding situation in Syria," Konashenkov said.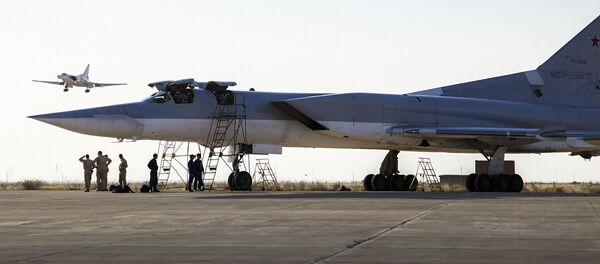 22 August 2016, 08:43 GMT
On August 16, Russia used the Iranian base for the first time in its anti-terrorism campaign in Syria. Russian Tu-22M3 long-range bombers and Su-34 strike aircraft carried out airstrikes against the jihadist groups Daesh and the Jabhat Fatah Al-Sham, formerly known as the Nusra Front, in Syria.