The howitzer shelling has struck Daesh targets near Jarablus and Kurdish YPG forces north of Manbij.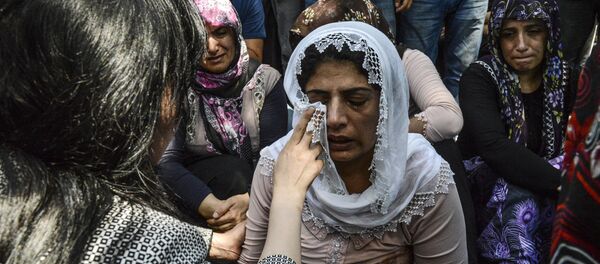 22 August 2016, 15:02 GMT
Turkish officials say that the strikes are aimed at opening a corridor for an "operation."
Earlier on Monday, Ankara had vowed to "completely cleanse" militants from its border region in the wake of the suicide bombing attack that left over 54 people dead at a wedding over the weekend.
"Daesh should be completely cleansed from our borders and we are ready to do what it takes for that," Turkish Foreign Minister Mevlut Cavusoglu said during a news conference.
A senior rebel official, speaking on condition of anonymity, said that Turkish-backed Syrian rebels were preparing to seize the border town of Jarablus from Daesh. Ahead of the shelling, roughly 10 Turkish tanks were seen moving toward the border gate near Jarablus.
The suicide attack took place in the southeastern city of Gaziantep on Saturday, and the suspect is believed to have been between the ages of 12 and 14. The deadliest attack in Turkey this year, President Recep Tayyip Erdogan said initial evidence points to Daesh.