For those of us in a committed relationship, technology can not only have a detrimental impact on how we respond to our spouse, but it can also hinder our sex life.
We arrive home after a long day at work, instead of asking our partner how their day was, we switch on our mobile phone or turn on the laptop and start to communicate with everyone else in the world apart from the very person we should be talking to.
© Photo : Kate Moyle
An episode from the Pillow Play app
An episode from the Pillow Play app
But it doesn't end there, we then take our phones into the bedroom, and are distracted, ironically, by connecting with everyone else and we forget the very person in the room whom we are meant to be distracted by and engaged in an intimate moment with.
Well, all that is about to change as we welcome a new app, called Pillow Play. It is designed to offer real time advice in the form of audio episodes that are crafted to boost intimacy in different ways. Switch your phone onto 'Do Not Disturb' and let the fun begin.
The app developer, Kate Moyle, a psychosexual therapist from London, believes that the app will encourage couples to take their time and focus more attention on one another.
"Often couples can rush through foreplay and sex because there isn't enough time; they lead busy lives and/or are tired. Pillow Play encourages them firstly to put aside that time, and secondly to explore sensually, not sexually. We live in a culture where sex is the focus, but actually exploring intimacy in other ways can be really beneficial for couple's relationship and sex life," Ms. Moyle told Sputnik.
For those couples worried that this is just a substitute of one technology distraction for another, think again.
It is all about the users. Once they have chosen an episode they really only use the phone for its speakers and so, this is why it doesn't take any of their attention. There is no pressure to think about or suggest anything new to their partner, they simply follow along.
"In a world that is so busy, we often forget to invest in the relationships that are right in front of us as we just assume that they will always be there, but we know this isn't the case. We have to work on our relationships and Pillow Play is about offering a playful and fun tool and way of helping with this," Ms. Moyle told Sputnik.
​It's not just the app developers who believe this will change the way couples relate to one another. Users of the app have experienced the benefits as well.
One couple, who wished to remain anonymous, told Sputnik that their favorite chapters on the app were "fifteen kisses" and "memory moments," as they allowed them to carve out time from their busy schedule and to concentrate on one another.
"We used it more as a tool to explore and try new things and have enjoyed doing the different activities. We have taken from it the knowledge that we need to make some real time to just enjoy being the two of us with no other distractions, a hard thing to do when things are so busy," the couple told Sputnik.
© Photo : Kate Moyle
Pillow Play application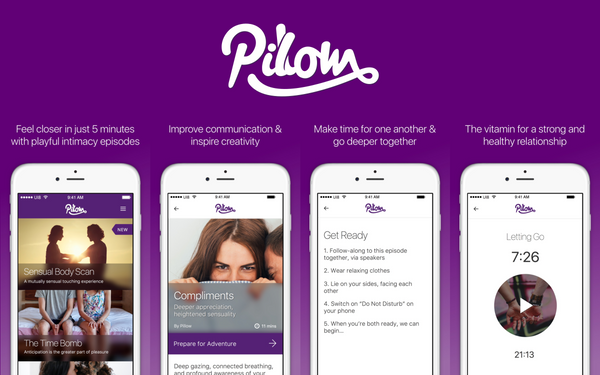 Pillow Play application
The app is really easy to use and the developers have created a free introductory series of 5 minute episodes, so that people can try it out, with it taking very little time out of their day. It is currently only available on iTunes for the iPhone or from the website.
Another couple told Sputnik:
"We have ended up having sex every time we have done a Pillow Play episode, I think just because we feel a lot closer to each other. There is lots of eye contact and touch and talking which we used to do a lot more, I think this has improved our sex life because it makes us want to have sex more."
Kate and her team now have over 15,000 downloads since their launch in February, and the numbers are growing daily.