WASHINGTON (Sputnik) — Mook did not name the purported Russian agent, but it turns out that he was referring to retired Lt. Gen. Michael Flynn, who until two years ago served as director of the Defense Intelligence Agency under President Barack Obama, the Clinton campaign told FactCheck.
"The gentleman he [Trump] brought with him to his security briefing just last week is someone who's on the payroll of the Russia Times, which is a basically a propaganda arm of the Kremlin," Mook said in an appearance on Sunday on ABC News' This Week.
As it turns out, Flynn was paid for giving a speech at an anniversary gala by the Russia Times, a government-funded television station, the report explained.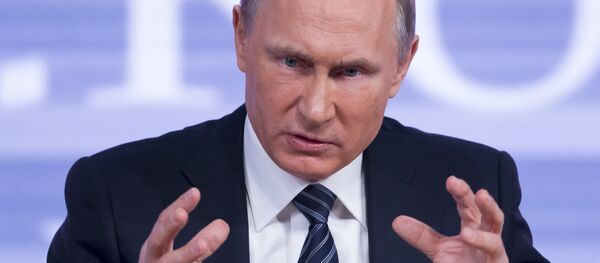 14 August 2016, 18:48 GMT
Other speakers at the event included former London Mayor Ken Livingstone, US Green Party presidential nominee Jill Stein and liberal US media commentator Thom Hartmann, the report noted.
Previous anti-Russia accusations by the Clinton campaign have been directed at former Trump campaign chief Paul Manafort, who resigned last week.
"With Manafort gone, Mook redirected the campaign's guilt-by-association attack on Trump by questioning Flynn's associations with the Kremlin," the report noted.
Although Trump has called for improved US relations with Russia, the Republican presidential nominee has no financial ties with Russia beyond holding the Miss Universe Pageant in Moscow in 2013, according to the report.
Trump was joined at his first intelligence briefing on August 17 at the Federal Bureau of Investigation (FBI) headquarters in New York City by Flynn and New Jersey Governor Chris Christie.