When in December 1979, the Soviet Union had to intervene in Afghanistan to stop the country turning into a haven for fundamentalist terror groups, the collective West accused Moscow of aggression and a land grab. Sanctions were imposed, the 1980 Moscow Olympics were boycotted by the US and some of its client states, and what the West called "moderate" opposition to the government of Babrak Karmal, were given money and weapons to "bleed the Soviets to the last Afghan," as Selig Harrison, a Washington Post correspondent and a long-time Afghanistan watcher with the Carnegie Endowment for International Peace think tank put it. His objective media reports from Afghanistan were dismissed by Washington as pro-Moscow propaganda.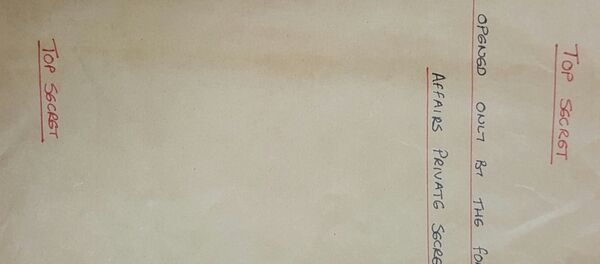 Rings a bell? It should, because the Western handling of Syria looks very much like a repetition of its tactics in Afghanistan, the terrible consequences of which are now for all to see. So what do the FCO Afghan papers tell us about the way the West is going about its world "leadership"?
The papers show that British diplomats were no fools, and well understood that Afghanistan of the 1970s and —80s badly needed social reform. They admitted among themselves that, if not for his association with Moscow, Karmal would have been accepted as their leader by most Afghans. Karmal was no communist, had been popularly elected twice before the Afghan revolution, and tried hard to improve the lives of ordinary people. The problem was, he was not acceptable to Pakistan, Saudi Arabia and other Islamist players in the region; nor, of course, was he acceptable to the West.
Western Guns For Fundamentalists
The declassified FCO papers reveal that Western help intended to be spread evenly among Afghan opposition groups was instead appropriated by the Pakistani government, and channeled either to his own military or to fundamentalist groups inside Afghanistan.
UNHCR: Afghan refugees in Pakistan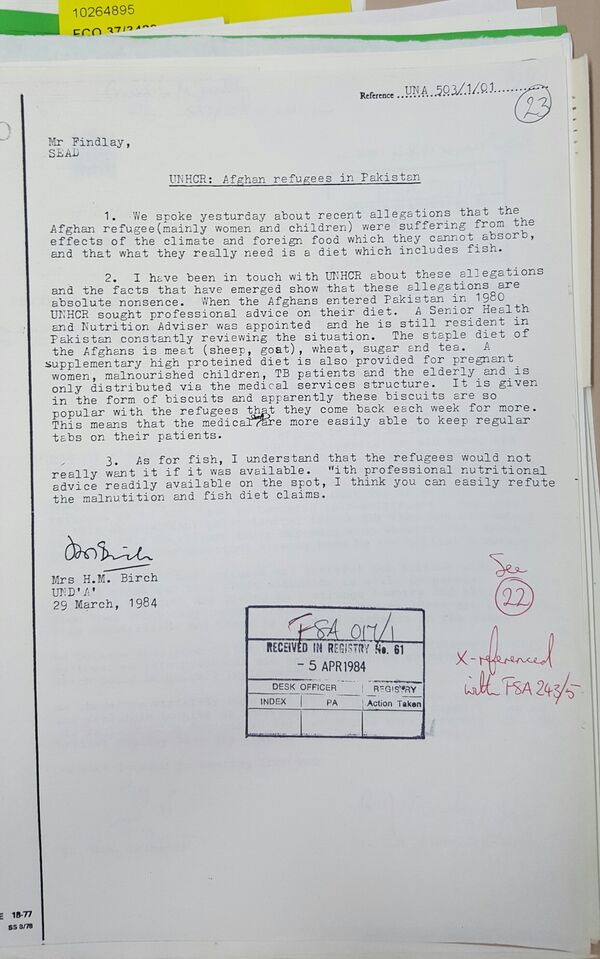 UNHCR: Afghan refugees in Pakistan
A telegram from the British Embassy in Kabul, to the FCO, dated January 11, 1984, explained:
"The fundamentalist groups have no tribal base in Afghanistan and little popular appeal. They have achieved the position they have only because most of the financial support from the Islamic countries for the resistance movement has been channeled in their direction. I think it is widely accepted that many of the members of the fundamentalist groups in Peshawar belong to them not for ideological reasons but because they are the best providers of money and guns. Most of their supporters would have few problems with their consciences in transferring their loyalty to other groups, or to a unified larger grouping, if the material pickings seemed to be better."
British diplomats expressed their displeasure with Pakistan's behavior, but mostly in conservation with each other, not publicly. Fundamentalists were welcome to set up shop in the UK. Replying to a request by Prof. Rabbani, leader of Jamiat Islami Afghanistan, for permission to open an office in London, FCO guidance suggested that no formal approval was needed, as long as there was no intention to use the office to plan or conduct terrorism. Prof. Rabbani "gave his solemn assurance that Jamiat's military operations were confined to Afghanistan". He didn't specify where the planning was being done, and nobody asked.
Document #2
Fishy Diet OF Lies
Another "resistance leader" Dr. Mohammad Akbar Helmandi, publisher of an obscure "Afghan Voice" newsletter, was more blunt. According to an FCO officer's report, "Dr  Helmandi turned up at the main entrance at the FCO on Friday 3 Feb 1984… Dr. Helmandi asked if I would put him in touch with someone from the 'Secret Service,' whom he hoped would join an expedition to blow up the Soviet/Afghan natural gas pipeline where it crosses the Amu Darya River. I took note of Dr. Helmandi's request but made no commitment to help him in this field. Dr. Helmandi seemed disappointed."
Instead of being arrested or deported on charges of conspiring to commit an act of terror, or at least told off in no uncertain words, Dr. Helmandi was provided with contacts in the Home Office and British Council to help his niece settle in Britain. Encouraged by such lenient treatment, Dr. Helmandi began bombarding then-Prime Minister Margaret Thatcher with requests to donate 1 million pounds to his fishing company. He claimed that Afghan refugees living across the border in Pakistan could not digest "strange" local food, were starving and needed fresh fish from the Gulf. The Brits almost believed him but decided to check with the Senior Health and Nutrition Adviser of the UN High Commission for Refugees in charge of the camps, who did not mince words.
" …these allegations are complete nonsense. The staple diet of Afghans is meet (sheep, goat), wheat, sugar and tea. …As for fish, I understand that the refugees would not really want if it was available …you can easily refute the malnutrition and fish diet claims."
Case closed? No. The FCO wrote back to Dr. Helmandi expressing, somewhat hypocritically, Britain's admiration for his "efforts to alleviate the plight of the Afghan refugees" and wishing him "every success" in getting his funds, elsewhere.
The FCO then went on the defensive, reporting back to Dr. Helmandi that between January 1980 and March 1984 HMG had given Afghan refugees 20 million pounds ($32 million) in aid. They did not tell him, as they did Selig Harrison, that the Soviet Union was spending the equivalent of $280 million annually on economic aid to Afghanistan, while the US government was spending $50 million on covert weapons supplies to the Mujahidin (Islamist opposition fighters). The declassified files show official displeasure with journalists who exposed Western covert arming of the insurgents, admitting that the revelations were embarrassing to Washington and Islamabad, as both denied it.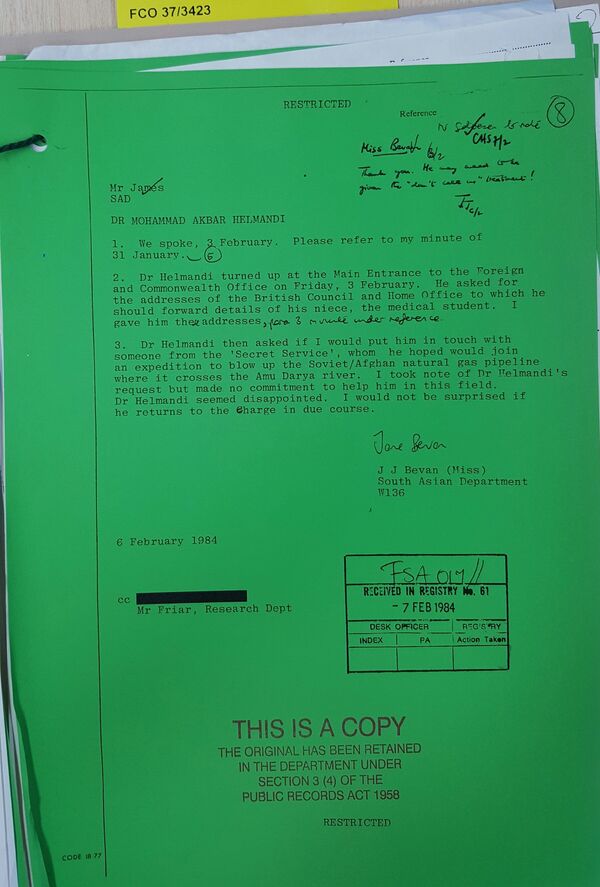 Document #3
The "complete nonsense" peddled by Dr. Helmandi in his letter to PM Thatcher did not prevent the FCO from suggesting that "it would be useful to meet Dr. Helmandi, who may have some information on the moderate groups"! (The ones that tried to blow up gas pipelines?)
Drug Addicts and "Lurid Propaganda"
But spurious disinformation about Afghanistan was not confined to Dr. Helmandi. Another colorful character, a Mr. Farani, described his circumstances to the FCO as those of 'a millionaire in a council house.' Before relocating to Britain, Farani lived in Germany for three years, yet he claimed he had up-to-date knowledge of the situation inside Afghanistan.
An FCO officer with the South Asia Department (aptly abbreviated as SAD) who interviewed Farani admitted that he did not "attempt to record the rambling anecdotes with which Mr. Farani larded his account, some of which struck me as highly imaginative."
Farani claimed he had details of chemical weapons allegedly used by Soviet forces in Afghanistan. These details Farani obtained from two Soviet soldiers who had defected to the Mujahidin after becoming drug addicts. "They are now in Pakistan and still addicted," he asserted.
Farani also produced large quantities of "lurid anti-Soviet and anti-Karmal propaganda." All of which bore the name "Internal Islamic Fronts Afghanistan," which Farani said was run by a nephew, Mahmoud Farani, reminiscent of some Syrian 'independent observers," based in the comfort of a British home.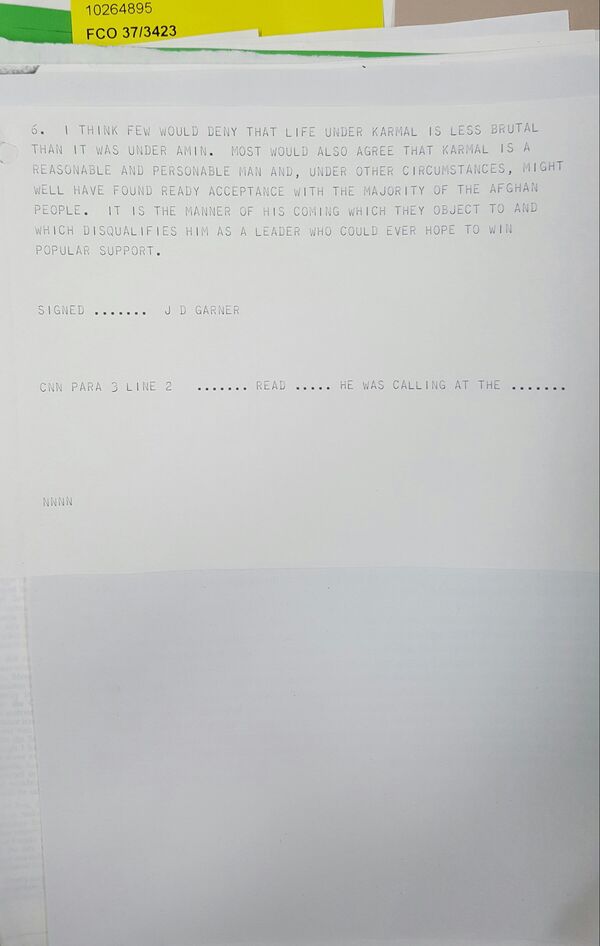 Document #4
Another way for British diplomats to get information about Afghan opposition was to talk to its numerous "representatives" in other countries. A telegram from the British Embassy in Malaysia informed FCO that, "Ambassador meets several of the leaders regularly and all the major party leaders were invited to the Queen's birthday party (two came). The most prominent of Afghan Mujahidin representatives in Kuala Lumpur, Mangal Hussein, was "sending reports on Afghan resistance activities direct to the BBC" although the Embassy "would not regard him 'as totally reliable.'"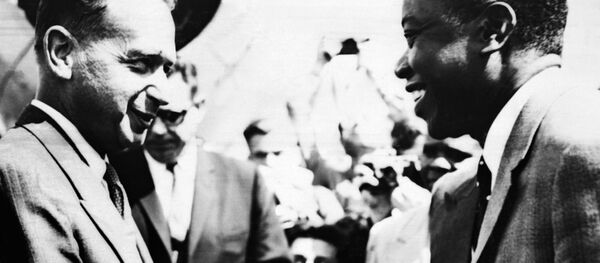 19 November 2015, 14:02 GMT
But this unreliability did not appear to be of concern to Western governments. To them much more "dangerous," in their own words, were the views of such renowned experts on Afghanistan as Selig Harrison. In his reports about UN efforts to mediate a peaceful solution to the conflict he argued that, despite Moscow's apparent readiness for such a solution, Washington was not interested and was willfully frustrating the work of UN special envoy Diego Cordovez.
A telegram from the British Embassy in Washington on February 15, 1984, observed, "Every time he [Selig Harrison] has come out with this line, the State Department have felt obliged to reiterate yet again their sincere desire for a negotiated settlement through the UN process, which in itself attests to Harrison's authority. …Harrison is known to be close to Diego Cordovez, and his familiarity with the negotiations, and the fact that he appears to reflect Cordovez's views a lot of time adds partly to the annoyance."
British diplomats were equally annoyed by self-proclaimed "leaders of the Afghan resistance" whom they suspected of pursuing their own private business interests. But what made the Brits engage with the likes of Dr. Helmandi and Mr. Farani was that they offered "propaganda" value.
As the details of Western deception regarding Afghanistan begin to emerge after 30 years, the question is: how fair is the Western treatment of Syria? We'll find out in 30 years, time when the files on Syria are declassified.