MOSCOW (Sputnik) — The operation started in the early hours of Wednesday, and according to media reports, involves Turkish F-16 fighters, artillery and tanks, which have been deployed on the border with Syria. The operation comes a day after the Turkish border town of Karkamis was shelled from Jarabulus, where Syrian moderate opposition forces are fighting Daesh militants.
"We do not believe that Turkey is sincere when it says that the operation aims to free the territory of terrorists. Their aims are against democratization of Syria," Muslim said.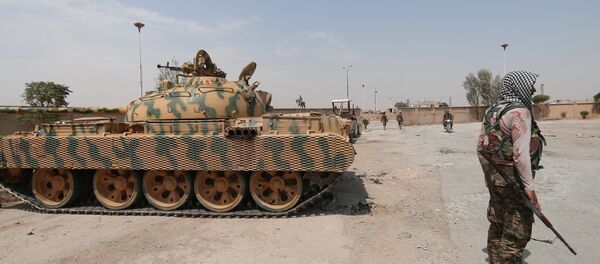 24 August 2016, 07:40 GMT
Turkish President Recep Tayyip Erdogan said earlier on Wednesday that the operation was aimed at stopping the threats posed by Daesh and Kurdish militants.
According to the local Kurdish authorities, at least 29 civilians were killed and over 3,000 were forced to flee the northern Syrian town of Jarabulus because of the Turkish airstrikes.
Earlier in the day, a representative for the Kurdish Democratic Union Party (PYD) in France, Khaled Isa, told Sputnik his party demanded that Turkey immediately withdraw from Syrian soil and stop supporting terrorist groups.