ANKARA (Sputnik) – The Turkish armed forces launched a campaign to clear Jarabulus in the early hours of Wednesday, striking 81 targets in 294 sorties en route to the town.
"PYD, YPG and among them these democratic forces have to go beyond Euphrates to the eastern part… [otherwise] we are going to do what we need to do, and we will not allow them to realize their secret agendas," Cavusoglu told reporters in remarks translated by the TRT broadcaster.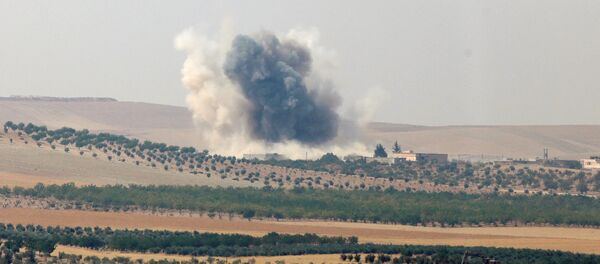 24 August 2016, 08:53 GMT
The Syrian Kurdish Democratic Union Party (PYD), meanwhile,
threatened
in an interview with Sputnik to "force them out" if Ankara does not withdraw its troops, classifying the Turkish mission as "direct occupation."
Abd Salam Ali, a PYD official in Russia, told RIA Novosti later that the Kurds will not accede to Ankara's demands because the regions have been liberated and are held by the Kurds. Ali did not rule out possible clashes between the Turkish and Kurdish forces.