ALEPPO (Sputnik) – On Wednesday, Turkish armed forces backed by the US-led coalition aircraft, launched a campaign dubbed "Euphrates Shield" to clear the northern Syrian town of Jarablus in Aleppo of extremist militants in the early hours of Wednesday.
"Forces allied with Turkey are attacking Aleppo from southern and south-western directions. Now the Turkish force have entered [the province] from the north and of course they will not stop until they reach Al Bab [city northeast of the province's capital]. Thus, Aleppo will end up in their grip. Turkey will negotiate aggressively, having the Aleppo trump card at hand," Rejzan Hedu told RIA Novosti.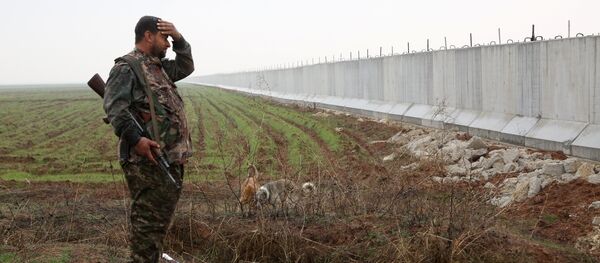 25 August 2016, 08:07 GMT
If Turkey really wanted to fight terrorism and not just pursue its geopolitical aims, it would have coordinated its actions with forces that fight on the ground in Syria, Hedu added.
Turkish Foreign Minister Mevlut Cavusoglu called on Syrian Kurdish forces to leave areas west Euphrates, including Jarablus, as it launched the operation to free the town from terrorists.