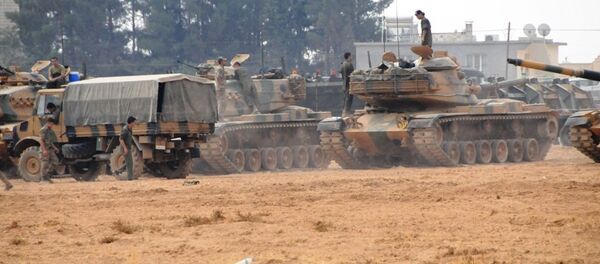 25 August 2016, 18:30 GMT
ANKARA (Sputnik) — The Turkish military opened artillery fire on Kurdish People's Protection Units (YPG) fighters to the south of the town, wiping out the group, Turkish channel NTV said, citing military sources.
Ankara announced on Wednesday that Turkish forces, backed by US-led coalition aircraft, had begun a military operation dubbed Euphrates Shield to clear the Syrian border town of Jarablus of militants from the Daesh jihadist group, outlawed in Russia and many other countries.
Turkish President Recep Tayyip Erdogan said on Wednesday that the operation in Jarablus was aimed at stopping the threats posed both by Daesh and Kurdish militants in Syria, which Ankara considers to be linked to the Kurdistan Workers' Party (PKK) branded a terrorists organization in Turkey.
Earlier on Thursday, Turkish Defense Minister Fikri Isik said that Turkey expects Syrian Kurds to leave the western bank of the Euphrates within the next week.