ANKARA (Sputnik) – The Turkish armed forces, backed by US-led coalition aircraft, launched a campaign dubbed "Euphrates Shield" to clear the Syrian town of Jarablus of extremist militants in the early hours of Wednesday.
"The Syrian opposition took control of Jarablus and has started to control other settlements in the area. But the entire area around Jarablus must be freed of the Syrian Kurds' self-defense forces," Yildirim said on Haberturk TV on Wednesday.
Turkish President Recep Tayyip Erdogan said on Wednesday that the operation in Jarablus was aimed at stopping the threats posed by Daesh, as well as Kurdish militants in Syria, which Ankara considers to be linked to the Kurdistan Workers' Party (PKK) branded a terrorists organization in Turkey.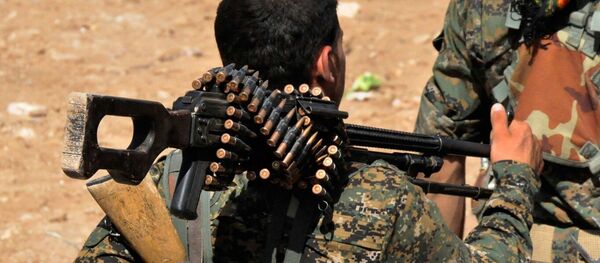 24 August 2016, 21:26 GMT
Syria's Kurdish Democratic Union Party (PYD) co-chairman Saleh Muslim told Sputnik on Wednesday that the Turkish operation is designed to thwart the democratization of Syria.
According to the local Kurdish authorities, at least 29 civilians were killed and more than 3,000 were forced to flee the northern Syrian town of Jarablus because of the Turkish airstrikes.
Local media reported on Wednesday that following the Turkish offensive Daesh militants were leaving Jarablus, which they controlled for over two years. Daesh is outlawed in a wide range of countries around the world.