MOSCOW (Sputnik) — On Thursday, France's Human Rights League filed an appeal against the ban on wearing burkini, that was imposed by the authorities of French Riviera resort of Villeneuve-Loubet on August 5, and upheld by the Administrative Tribunal of Nice on August 22.
"Looking into the mayor's order, the urgent applications judge of the Council of State notes that no evidence was brought before him [to prove] that risks of breaches of peace and good order existed, on the beaches of Villeneuve-Loubet, in relation to the clothes worn by some people. Considering that such risks do not exist, the concern and worries resulting from recent terrorist attacks, in particular the attack that took place in Nice on July 14th, are not sufficient to justify legally the mayor's order," the Court said in the explanatory part of its decision.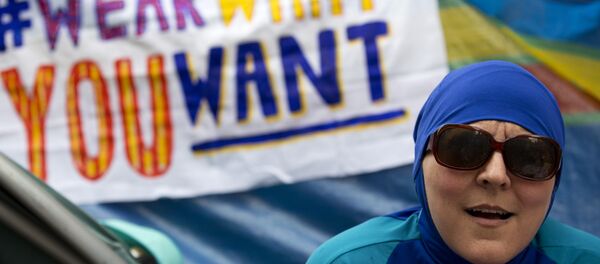 26 August 2016, 14:59 GMT
The town became one of the first French cities out of the about 30 to introduce such a restriction. Earlier on Friday, a spokesperson of the Council of State
told Sputnik
that following Friday's decision, which set a precedent, new appeals on burkini bans in different cities we very likely.
On Thursday, an Ifop poll conducted for Le Figaro newspaper showed that 64 percent of people in France oppose the burkini while just 6 percent approves of the controversial garment.