At the beginning of the month, speaking to local media, Pavlograd Chemical Plant director Leonid Schiemann revealed that after receiving financing of about one billion hryvnia ($40 million) from an unnamed investor, engineers at enterprises under the umbrella of the Ukrainian State Space Agency had made significant progress in the development of the Grom-2, an analogue to the Russian Iskander tactical ballistic and cruise missile complex.
Recently, BMPD, a military blog unofficially affiliated with the Center for Analysis of Strategies and Technologies, a respected Moscow-based think tank, revealed that the Grom-2 project was commissioned by the Saudis, who provided the Pavlograd Chemical Plant with about $40 million in financing to develop the missile complex for Riyadh. According to BMPD, the Saudis are looking for a system capable of firing both ballistic and cruise missiles interchangeably.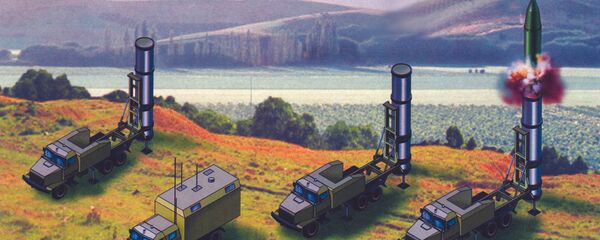 Information regarding Grom-2's ongoing development was first provided at the Arms and Security exhibition in Kiev last year, with the concept for the system dating back as far as 2003, at which time the country could not find the necessary development funding. The system is expected to feature two ground-to-ground missiles, and to have a range of 280 km (with possible upgrades increasing that to 500 km); Grom-2 is expected to use the prospective 'Korshun' ('Kite') cruise missile. The system's designers have claimed that Grom-2's unconventional flight trajectory will enable it to defeat the most advanced missile defense systems, including Russia's S-300 and S-400.
Asked to comment on BMPD's reporting on the Saudi trace, Andrei Frolov, an expert at CAST and chief editor of Arms Export magazine, suggested that the details behind the story remain very murky. 
Speaking to the independent online news and analysis resource Svobodnaya Pressa, Frolov commented on Riyadh's possible motives, and why their investment in the Ukrainian defense sector doesn't seem to make much sense. "On the one hand, ordering the Grom is an opportunity for Riyadh to get ahold of a modern tactical ballistic missile system, which the Americans do not seem to want to sell them. On the other hand, Riyadh could easily buy such weapons from Beijing."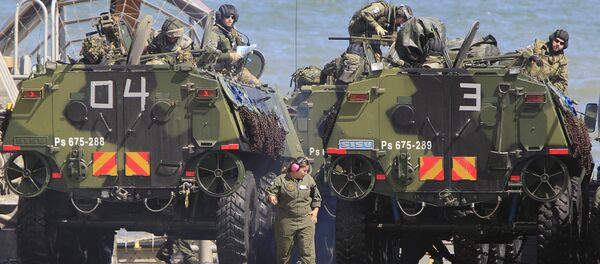 26 August 2016, 13:48 GMT
"The Ukrainians may have promised the Saudis not only a prototype which, depending on the objective, could be equipped with different systems, but also production of the weapon. Kiev's assurances that Grom-2 will be able to launch both ballistic and cruise missile is a clear allusion to the Iskander," the Russian system which includes the Iskander-M and Iskander-K modification, the former equipped with ballistic missiles, the latter with cruise. 
© RIA Novosti
 / Go to the mediabank
The Russian Iskander SRBM system being deployed and prepped for launch. File photo.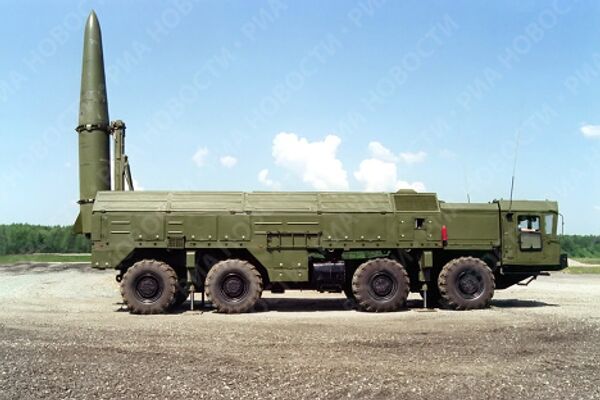 The Russian Iskander SRBM system being deployed and prepped for launch. File photo.
However, according to Frolov, the chances of Ukrainian engineers actually bringing such a system to life are "doubtful" at best.
As for the Korshun cruise missile, which analysts have previously said "outwardly looks very similar to the long-range Soviet-era air-based Kh-55," Frolov noted that while Ukraine technically has the capability to produce elements of cruise missiles using manufacturing and design capacities left over from the Soviet period, it's unlikely that Kiev's benefactors in Washington will allow the country to build modern cruise missiles.
"The US will do everything possible to prevent Ukraine from producing cruise missiles, as they know that such systems –specifically those with a range of 280 km or more, will be produced exclusively for export, ending up, for example, in Iran, which would be very interested in cruise systems at knockdown prices. Even under the previous Ukrainian government, when the country was not facing such a tense situation domestically, Washington attempted to block Ukrainian moves, sometimes unsuccessfully, as in the case [in the mid-2000s] when Kiev supplied China and Iran with Kh-55s using forged documents that named Russia as the missiles' destination."
As far as the vehicle chassis carrying the missile system is concerned, Frolov suggested that judging by reports, Ukrainian engineers may use MAN trucks purchased through Belarus, a Belarusian option (such as MAZ), or even Chinese and Korean trucks. 
"But all of this is theoretical; it's very difficult to imagine that the Ukrainian defense ministry is in a position to create a rocket for a tactical ballistic missile system, since it barely managed creating a guided missile for the Smerch multiple launch rocket system, and even here it's not clear whether this is a new system or a Soviet-era one."
© AFP 2023 / SERGEI SUPINSKY
A Ukrainian soldier waves as troops with Smerch multiple launch rocket systems drive on a road not far from the eastern Ukrainian city of Kramatorsk in the Donetsk region on March 6, 2015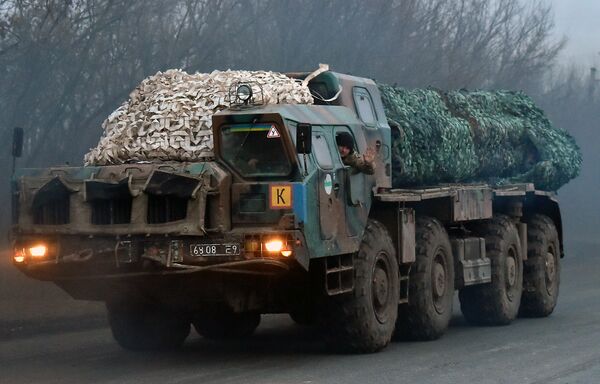 A Ukrainian soldier waves as troops with Smerch multiple launch rocket systems drive on a road not far from the eastern Ukrainian city of Kramatorsk in the Donetsk region on March 6, 2015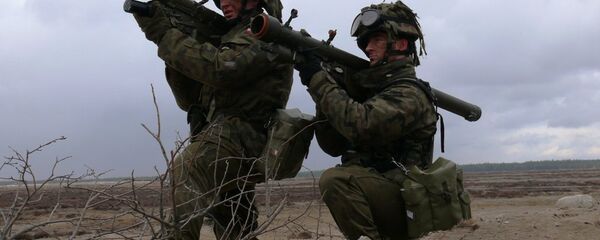 15 August 2016, 09:56 GMT
Furthermore, the analyst emphasized that building a production line for the system would cost enormous amounts of money, far more than investors have laid out so far. In fact, he suggested, "it's entirely possible that the contract for a Ukrainian short-range ballistic missile system was a really a measure aimed at retroactively legalizing the transfer of other technology and individual components to Saudi Arabia, accounting for Riyadh's traditional interest in ballistic missiles of all kinds."
For his part, colonel-general Viktor Yesin, former chief of Russia's Strategic Missile Troops, suggested that it's possible for Riyadh to show interest in missile systems from the former Soviet space, including Ukraine, given the interest they have previously shown in similar Russian systems, which were eventually simply banned for export. At the same time however, he too indicated that he doesn't quite understand the logic behind Riyadh's moves.
"…It can be assumed that they have invested money into the Ukrainian defense industry to get at least some analog to Russian systems. But in general this seems like a very convoluted path to achieving this, given that Saudi ally Pakistan has a whole line of tactical missile systems it is willing to sell to Riyadh."
Meanwhile, retired colonel Mikhail Khodarenok, a former staffer at the Russian General Staff's Main Operations Directorate, told Svobodnaya Pressa that contemporary Ukraine's defense industry has yet to produce a successful missile system of any kind. In this light, he noted, "the Saudi position is surprising. First of all, the Saudis are generally pretty pragmatic, and very picky in terms of their procurement of military equipment. Meanwhile, no one has actually seen the Grom-2 in the flesh – only poor quality images. Secondly, Riyadh has the opportunity and the money to purchase tactical missile systems from China or Pakistan."
"In my opinion, the only plausible explanation for this is that the Saudis were given the recommendation to support the Ukrainian defense industry," Khodarenok suggested. The expert did not elaborate on who may have offered such a recommendation.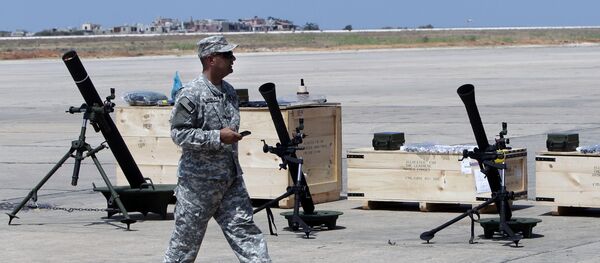 23 August 2016, 23:31 GMT
Finally, for his part, Alexei Leonkov, defense analyst and former expert at the 30th Central Scientific Research Institute outside Moscow, suggested that the chances of Riyadh's investment actually paying off range from slim to none.
"When it comes to developing tactical missile systems, the Ukrainians do not go beyond advertising campaigns and booths at military shows. Aside from the fact that such work requires organizing the design and production process, the rockets also have to be tested somewhere. [Ukrainian engineers] recently demonstrated a multiple rocket launcher system firing guided munitions at one of their testing grounds, but trials and testing of correctable ballistic or cruise missile projectiles is something else completely. Ultimately, I don't think this Grom will be going anywhere, or be shooting anything."