WASHINGTON (Sputnik) — Montreal Mayor Denis Coderre suspended hearings on the controversial $15.7 billion Energy East oil pipeline project in the province of New Brunswick after a group of protesters disrupted the meeting, Canada's National Energy Board (NEB) said in a statement on Monday.
"The Energy East Montreal Panel Session is suspended for today," NEB Canada confirmed on Twitter.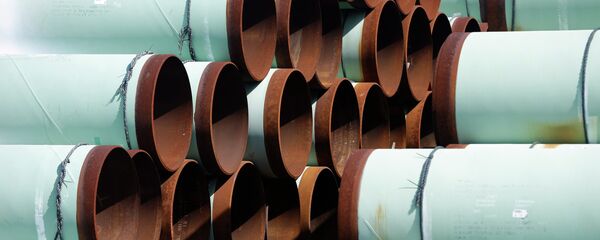 3 November 2015, 00:30 GMT
​Nearly 200 people who oppose the project gathered outside the building. A few minutes before Coderre spoke a group of protesters entered the hearing room and prompted the officials to leave, local media reported.
"Coderre have annulled the meeting for the day after the several critics of the energy East project, including risks for water sources," the Montreal Metropolitan Community stated on Twitter.
The 4,600-kilometer (2,858-mile) long Energy East would be the largest tar sands underground line ever built in North America, reaching from Alberta to New Brunswick.
In April, an environmental advocacy group reported that the pipeline would cross nearly 3,000 identified waterways and other critical water sources and endanger the drinking water of 5 million Canadians living in four provinces.