Uber is a US$69 billion ride-hailing business phenomenon. Since launching in 2009, it has hit headlines the world over for challenging traditional taxi businesses, offering a cheaper and more flexible model for consumers and freelance drivers alike.
It loudly sings the praises of the "sharing economy," a less regulated, more versatile structure of sharing resources, or access to resources, using peer-to-peer services.
© Flickr / Joakim Formo
Uber taxi service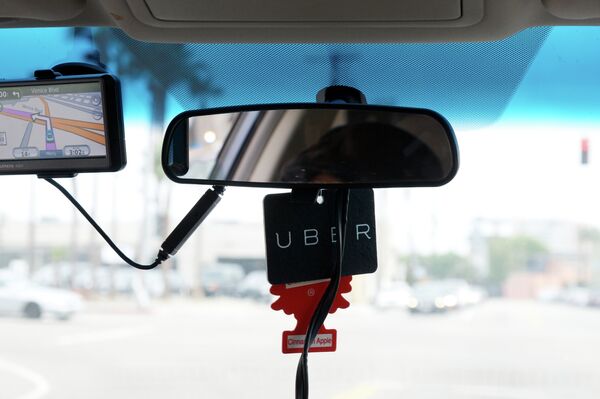 Uber taxi service
However, last week it announced huge losses of US$1.2 billion in the first 6 months of this year.
At first glance, it might seem that the luster from this early champion of the sharing economy is starting to fade.
Not so, say many UK business leaders.
Laurent Gibb is the founder and CEO of Staff Heroes UK, an on-demand sharing economy app that matches employers and temporary staff.
He believes that although there are regulatory challenges, more and more people are choosing to take part in the sharing economy:
"There's no stopping it. It's growing rapidly and will continue to do so," Mr. Gibb told Sputnik.
"Essentially, the sharing economy is an old model but where new technology has been applied. We are a market place empowering businesses and workers to have flexibility.
"We are trying to disrupt the traditional agency model, where an agency would have a certain number of workers on their books, and then match them with businesses. Our platform is self-service and fully automated: it doesn't rely on a big team. And businesses benefit from the transparency. They are able to see exactly who they're bringing in: they can see reviews of workers. Flexibility and efficiency are key," he added.
It is this flexibility, which many consumers continue to be attracted to.
A survey this month of 1,000 people, conducted by peer-to-peer car rental company easyCar Club, found that 70 percent of Brits actively use sharing economy businesses in their day to day lives, to save money or have more personal control over how they access services..
And in May this year, the UK government cut red tape to allow home owners to rent their rooms out with Airbnb — a home rentals website that connects travelers in need of a place to stay with locals looking to rent out a spare bedroom or property — for up to 90 days a year. 

But while the UK has taken a lead in the sharing economy, the outlook is not as positive elsewhere.
In Berlin, the city's administrative court has placed a ban on Airbnb and other short-term letting agencies since 1 May. People who let more than 50% of their apartment, on a short-term basis without a permit, now risk a fine of US$112,000.
The judge, Rautgundis Schneidereit justified the verdict, saying: "The availability of affordable housing is severely threatened in the entire city of Berlin and the regulation therefore justified."
Traditional holiday rental businesses welcomed the ruling, claiming that Airbnb is not as safe as conventional hotels and hostels, because they are not as heavily regulated.
Mr. Gibb from Staff Heroes UK, acknowledges that legislation governing sharing economy businesses needs to be updated.
"I think there has been some controversy about how workers feel about the sharing economy. We need to make sure workers feel looked after and feel safe."
"Regulators and the structures of employment are struggling to catch up. Businesses in the sharing economy are in an in-between place right now with legislation. I know the government is working to review this issue and Sharing Economy UK [a trade body representing the sharing economy community] is working with them to help."
With the ongoing uncertainty over court restrictions and legal grey areas, the news of Uber's mammoth losses have led some to question the viability of the entire concept of the sharing economy.
Mr. Gibb believes that is premature, adding that more and more people are catching on to the benefits.
"Initially it was more millennials but now more people are joining our platform, chefs for example. They've worked hard all their lives in tough environments and now they want to take control of their working conditions," Mr. Gibb told Sputnik.
Multinational professional services giant PwC, predicts that in the UK at least, the sharing economy is likely to continue to grow — and grow big.
In a study for the European Commission, it called the UK "a hub for the sharing economy," which has grown the fastest in Europe, with transactions almost doubling to US$8.7 billion in 2015.
And with technology reducing transaction costs, making sharing assets cheaper and easier than ever, it seems likely that Brits will continue to engage, whatever the fortunes of Uber.