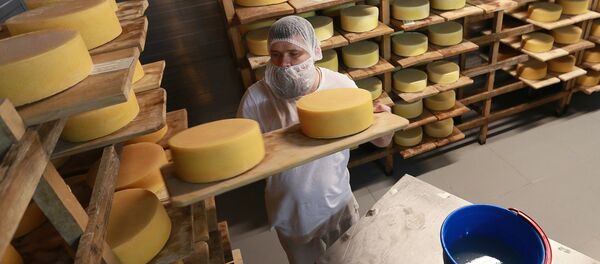 MOSCOW (Sputnik) — Khan also stressed that the logistics for exports is imperfect currently, as Pakistan is forced to deliver products through St. Petersburg, and only then to Moscow, Krasnoyarsk and Astrakhan. As a result, average container journey time to Russia is from one to three months, which is a problem for Pakistani suppliers.
"Currently, Pakistan exports 200,000 tonnes of products to Russia per year. The major share falls on supplies of potato, bananas, rice, papaya, tangerines and oranges… We are ready, thanks to the [upcoming] establishment of Trading House of Pakistan in Moscow to increase the supplies to 1 million tonnes per year," Khan said at a meeting with Chairman of the Eurasian Business Union Board Viktor Kambolov.
At the same time, Khan stressed that already this fall, the timeframe of product delivery from Pakistan to Russia should be reduced to 12 days due to the opening of a new road from Pakistan to Iran.
According to Khan, despite the fact that there are many of those in Pakistan who are willing to cooperate with Russia, many businesspeople are afraid to invest in the existing trade route due to the weak logistics and large number of associated risks.
The bilateral Russia-Pakistan trade volume is estimated to be $395 million in 2015, which was a decrease from $453 million a year before.