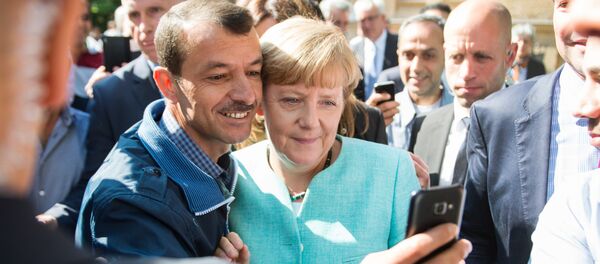 1 September 2016, 00:25 GMT
MOSCOW (Sputnik) — The survey published on Wednesday and carried out by Forsa sociology institute for the
Zeit newspaper
, showed that 31 percent of Germany's democratic socialist Die Linke party supporters and 30 percent of anti-immigrant AfD supporters trust Putin more than Merkel. Less than 10 percent of other German parties' supporters consider the Russian president more trustworthy than the chancellor.
The research also showed that East Germans trust the Russian president more than those living in the West, 23 percent against 10 respectively.
The German chancellor has come under fire for her open-door migration policy which saw over one million migrants arrive in the country in 2015 amid the major refugee crisis in Europe.
According to a survey carried out on August 1-2 by Infratest polling institute on behalf of German ARD broadcaster among 1,003 eligible voters throughout the country, 12 percent of Germans support AfD and 9 percent would give their votes for Die Linke party.