HANGZHOU (Sputnik) – Russia supports China's stance on the South China Sea court dispute and opposes any third-party interference, Russian President Vladimir Putin said Monday.
"Chairman Xi Jinping and I have developed very trusting, I would say friendly, relations. But he never – I want to emphasize this – never approached me requesting to somehow comment, somehow intervene in the matter," Putin told reporters.
"We of course have our own opinion on this matter. It is that, first of all, we do not interfere and we believe that any intervention of a non-regional power goes only to the detriment of settling these issues. The intervention of third-party non-regional powers, in my opinion, is harmful and counterproductive," he added.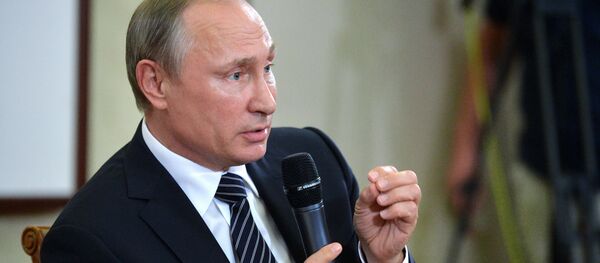 5 September 2016, 13:48 GMT
On July 12, the Hague-based Permanent Court of Arbitration ruled that Beijing has no legal basis to claim historic rights to South China Sea resources and has violated the sovereign rights of the Philippines in the country's exclusive economic zone. The ruling came after Manila filed a case in January 2013 accusing Beijing of violating the UN Convention on the Law of the Sea.
"We stand in solidarity and support of China's position on this issue – not to recognize the decision of this court… This is not a political position, but purely legal. It lies in the fact that any arbitration proceedings should be initiated by the disputing parties, while the arbitration court should hear the arguments and positions of the disputing parties. As you know, China did not address the Hague arbitration and no one listened to its position there. How can you recognize these decisions as fair? We support China's position on this issue," Putin stressed.
Beijing's territorial claims to the Spratly Islands in the South China Sea, which are believed to be rich in oil and gas reserves, run counter to those of the Philippines, Taiwan, Malaysia, Brunei and Vietnam.