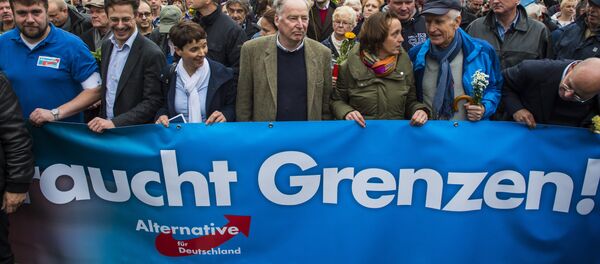 5 September 2016, 18:47 GMT
MOSCOW (Sputnik) — The Alternative for Germany (AfD) party sees an opportunity to influence the federal government's soft policy toward migrants by gaining more seats in the country's state parliaments, Markus Frohnmaier, the official spokesman for the AfD leader Frauke Petri, told Sputnik on Tuesday.
On Sunday, the state of Mecklenburg-Western Pomerania held state elections, with AfD winning 21 percent of the vote, knocking Chancellor Angela Merkel's Christian Democrats (CDU) party into third place with 19 percent. The left-leaning Social Democrats received 30 percent of the vote and will remain the state's ruling party. As observers and CDU members admitted after elections, the CDU's "bitter result" was directly linked to voters' dissatisfaction with Merkel's soft line on refugees.
"The more seats AfD will gain in the state parliaments, the more possibilities we will have to influence the government, so that they change the direction of its policy [toward migrants]," Frohnmaier said.
He said he did not believe Germany's federal government policies toward refugees would change even in light of the CDU's loss in Mecklenburg-Western Pomerania.
"I have no reason to look optimistically on the government's actions regarding the issue of refugees. Taking into account the comments by the government in the last weeks or months, unfortunately, I cannot say that they have any understanding," Frohnmaier said, when asked whether the defeat of the CDU could force the government to toughen its stance on migrants.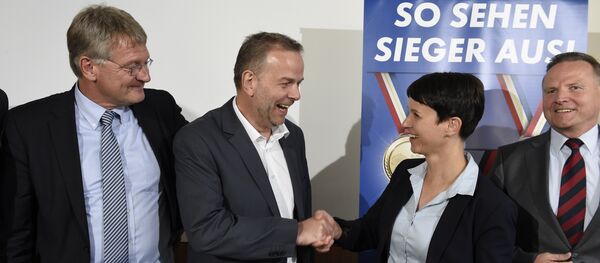 5 September 2016, 16:13 GMT
He added that since last year, when Merkel gave her famous promise that Germany would cope with the migrant inflow — which stood at one million in 2015 — the country faced numerous problems caused by the chancellor's welcoming stance toward refugees.
"Since that moment I saw only actions that were devastating for my country and Europe as a whole: crimes by foreigners, terrorism, cases of marriage in childhood, the isolation of Germany in Europe, dependence on [Turkish President Recep Tayyip] Erdogan, sexual offenses and increasing budget spending — such a life in Germany has become normal since 2015. In my opinion, Merkel's open-door policy was the cause of terrorism in Europe," Frohnmaier, who is also the head of the AfD apparatus, suggested.
Following a spate of sexual assaults blamed on North African men on New Year's Eve in Germany and a series of a bloody attacks this summer, some of which were claimed by the Daesh terrorist group, the mood of most Germans has darkened, with concerns growing stronger about how to integrate the newcomers. It has led to unprecedented popularity of the anti-Islam and anti-migrant AfD, founded just over three years ago.
With the party's latest electoral success, the AfD will hold seats in nine out of Germany's 16 regional parliaments, and is projected for impressive gains in Berlin upon September 18 elections.