The irony of a German minister admitting that some migrants within his country could be returned to Greece could not be starker. 
"We have done a lot in Europe in order to improve the refugee situation in Greece. This must have consequences that will enable refugees to be sent back to Greece according to the Dublin regulations," De Maiziere told the Welt am Sonntag newspaper.
It was his Chancellor Angela Merkel who declared Germany's doors "open" to refugees from Syria, triggering the biggest mass movement of people across Europe since the Second World War. More than a million made it straight through to Germany, creating havoc in countries through which they crossed. 
The bulk of those who survived the perilous passages across the Aegean Sea and the Mediterranean arrived in Italy and Greece — two countries already struggling economically and unable to deal with the huge tide of human traffic.
© REUTERS / Giorgos Moutafis
A rescue boat of the Spanish NGO Proactiva approaches an overcrowded wooden vessel with migrants from Eritrea, off the Libyan coast in Mediterranean Sea August 29, 2016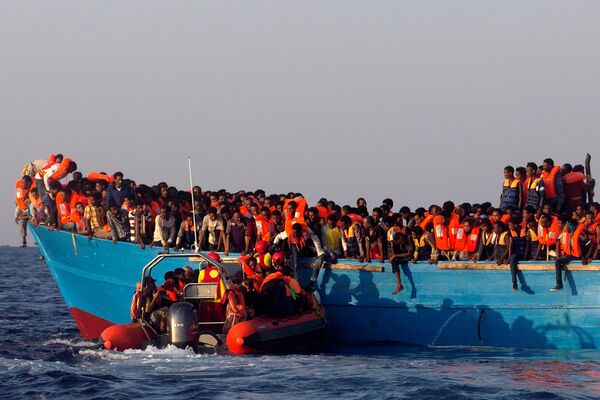 A rescue boat of the Spanish NGO Proactiva approaches an overcrowded wooden vessel with migrants from Eritrea, off the Libyan coast in Mediterranean Sea August 29, 2016
The flood of people making the land journey through the West Balkan route led to many countries closing their borders — against the principle of the Schengen borderless Europe principle — exposing massive security flaws at the EU's external borders.
The Dublin rules that state that every asylum seeker shall be processed at the point of entry went out of the window as hundreds of thousands of people flooded Europe unchecked. The sheer volume  of migrants gave Daesh and other terrorists an opportunity to exploit security and intelligence failures to travel between Syria and other neighboring countries and Europe.
The controversial plan — proposed by the European Commission and staunchly backed by Merkel — to relocated 160,000 people from Greece and Italy to member states has failed to gain traction, after many countries — particularly in Eastern Europe — refused to take any and rejected the idea of mandatory quotas.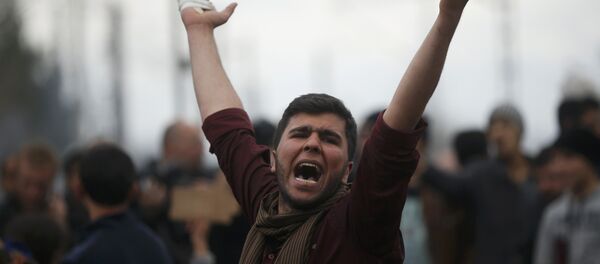 Relocation Failure
In July 2015, the European Council agreed "to the relocation of 40 000 persons in clear need of international protection, which will run over two years, from the frontline Member States Italy and Greece." Then, In September 2015, it once again agreed "to relocate 120,000 people in clear need of international protection to other EU Member States."
So far — as at September 5, 2016 — only 4,519 have actually been relocated under the scheme, amid an initial inability to set up "hotspots" with enough staff to process the asylum seekers and a complete failure to agree on where they could be relocated to. Hungry — supported by Poland — is challenging the policy at the European Court of Justice.
Now that German interior minister is suggesting the Dublin rules to be enforced and that migrants should be sent back to the country where they originally arrived, the situation has gone full circle. The humanitarian crisis is further deepened by the gradual failure of the controversial EU-Turkey migrant deal — again brokered by Merkel — under which those refused asylum in Greece are returned to Turkey in return for EU cash.
​That deal is slowly becoming unraveled because of rising opposition to the deal within Europe over Turkish President Recep Tayyip Erdogan's increasing grip on power, clampdown on opponents and serious doubt over Turkey's record on free speech and human rights.
After nearly two years of negotiation over how to deal with the migrant crisis, whole pillars of the European Union are collapsing: borderless Schengen, the Dublin rules, free movement and any sense of a common immigration policy. For many, the EU dream lies in tatters in the face of a deepening humanitarian crisis it created.