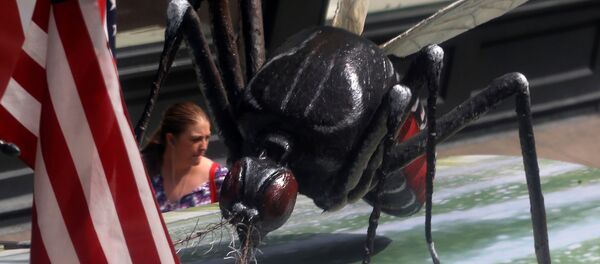 6 September 2016, 22:52 GMT
The number of mosquito-borne Zika infections in and around Miami Beach has been on the rise, resulting in county authorities authorizing the spraying of a 1.5-square-mile area with chemicals intended to kill the flying insects, the primary carrier of the disease.
Miami-Dade County mayor Carlos Gimenez authorized the use of trucks with wind turbines to spray chemicals on the streets, and as well as aerial spraying. 
The latter method has sparked controversy among citizens, concerned about the toxicity of Naled, one of the two insecticides being used.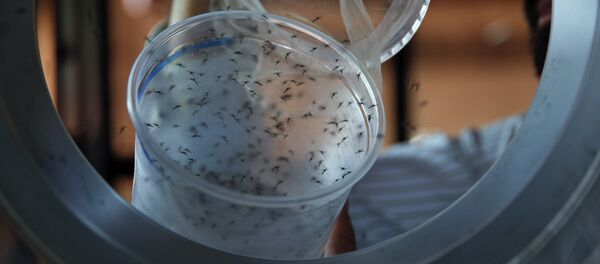 1 September 2016, 20:07 GMT
Naled is an organophosphate insecticide, of the same class of compounds as nerve-agent chemical weapons. With high exposure, Naled overstimulates the nervous system, causing nausea, dizziness, confusion, and, at very high exposures, respiratory paralysis and death. The insecticide has been banned in the European Union since 2012.
"Naled… can essentially kill anything," said Tanjim Hossain, a graduate research fellow at the University of Miami. "When a droplet of the insecticide touches a mosquito, it kills the mosquito pretty much instantaneously."
The spraying has resulted in citizen alarm, with protesters in the streets carrying banners saying "Stop poisoning us" and "Naled does more harm than good."
Miami Beach city mayor Philip Levine says he is "uncomfortable" with aerial spraying, but insists that medical and scientific recommendations must trump people's fears.
"I am not comfortable with it, but I think it's important that we listen to the proper scientific and medical authorities and what they recommend," he said.
Miami Beach City Commissioner Mike Grieco, however, is upset with developments, enough to call for a special meeting Wednesday in an effort to cancel scheduled aerial sprayings.
"It's a neurotoxin. We don't know the risks. It's been outlawed in Europe since 2012. It's something that has not been used in Miami, historically," he stated.
Gimenez claimed that aerial spraying of the toxin was recommended by Florida health officials and the US Centers for Disease Control and Prevention (CDC). However, when the reporters contacted the CDC, the organization representative observed that "the decision whether or not to aerial spray is ultimately up to Miami Beach."