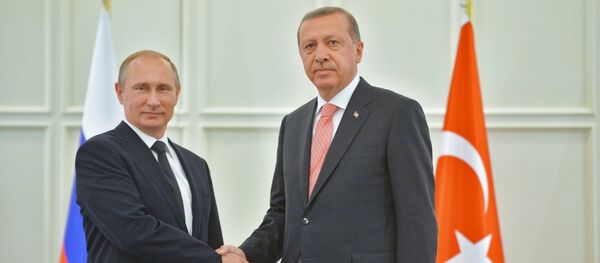 3 September 2016, 22:14 GMT
The situation on the ground in Syria has changed drastically now that Moscow and Ankara have resumed political, military and economic cooperation, Stanislav Tarasov, head of the Middle East-Caucasus think tank, notes in his
article
for Regnum.
Up until recently, Russia and Iran have opposed Ankara's intervention in Syria and threatened to counter such attempts, Tarasov recalls.
For its part, Washington also long hesitated to give the go-ahead for a Turkish ground operation in Syria, fearing that Ankara's potential clashes with Moscow and Tehran could provoke a large-scale regional conflict involving a NATO member-state.
However, when Turkey launched its "Euphrates Shield" operation, neither of the geopolitical players made an attempt to disrupt Ankara's military initiative.
Speaking to a press conference following the G20 Summit in the eastern Chinese city of Hangzhou, Russian President Vladimir Putin remarked that the Turkish military operation "was not something unexpected" for the Kremlin, since there are the Foreign Ministry and intelligence services in Russia for its leadership "to face fewer unexpected developments."
"We understood what was going on and where the things would lead," Putin said, as quoted by official site Kremlin.ru.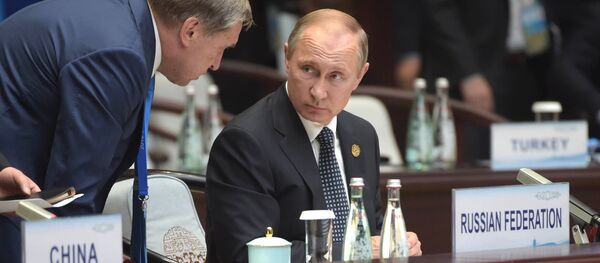 6 September 2016, 09:56 GMT
Tarasov points out that there were reports suggesting that Turkey has negotiated its plans with Moscow, Tehran and Washington before the offensive; however, it still remains unclear whether Ankara is really coordinating its military actions with Russia or the US.
Still, it cannot be denied that there is a certain thaw in relations between Turkey and the geopolitical players, Tarasov underscores.
Indeed, Washington has recently proposed to Ankara that they carry out a joint operation aimed at retaking Raqqa from Daesh (ISIS/ISIL) in Syria.
In response, Turkish President Recep Erdogan said Ankara sees no problem in accepting the US proposal.
"Raqqa is an important center for Daesh… [US President Barack] Obama particularly wants to do something together [with us] about Raqqa. We have told him that this is not a problem for us… What can be done there will become more concrete after talks," Erdogan told reporters as quoted by Hurriyet Daily News.
At the same time, speaking to Russian broadcaster NTV, Turkish presidential spokesman Ibrahim Kalin revealed that Erdogan had discussed a potential ceasefire in the Aleppo region with President Putin and US President Barack Obama at the G20 meeting in China.
"After bilateral talks with the Russian and American leaders, Erdogan held two additional meetings [with Putin and Obama]… Ankara received full support from the leaders [Russia, the US] in part of its efforts to eradicate the terrorism threat along the Turkish border [with Syria]," Kalim told the Russian broadcaster, as quoted by RIA Novosti.
"Now it is important to expand this zone," the spokesperson emphasized; "Therefore the [Syrian] opposition forces are moving deeper into Syria, liberating new territories [from Daesh]."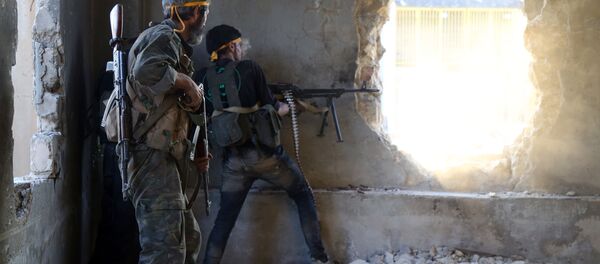 6 September 2016, 17:49 GMT
Kalin added that ahead of the G20 summit, Erdogan had held a phone conversation with Vladimir Putin and asked him to facilitate the implementation of the ceasefire in Aleppo before the Muslim "Sacrifice Feast" (Qurban Bayram), which will start on September 12.
Tarasov emphasizes that a 180-degree turn in Russo-Turkish relations has caught the international community and Western powers off guard.
In addition to renewal of the talks on Syria, Russia and Turkey have "unfrozen" a number of energy projects and resumed trade relations, which had been disrupted after the Turkish military shot down a Russian Su-24 bomber on November 24, 2015 over Syrian airspace.
"In terms of tactics, the two leaders [Putin and Erdogan] are sending a multidimensional message to the US and the EU, demonstrating that they have alternatives amid the existing sanctions regime against Russia and the potential threat of Western sanctions against Turkey," Tarasov underscores.
He adds, however, that on a strategic level, lots of questions remain open, in particular, the countries' approaches toward the solution of the Syrian crisis and the future of the country.
In any event, Russia and Turkey have recently demonstrated to the West that they pursue pragmatic foreign policy goals and remain influential players in the Middle East.