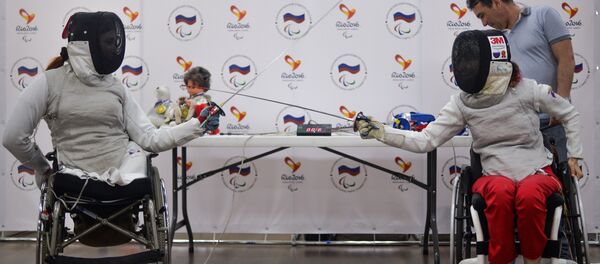 24 August 2016, 13:43 GMT
The accreditation of an individual who carried the Russian flag as part of the Belarusian delegation at the opening ceremony of the 2016 Rio Paralympics on Wednesday has been cancelled, Craig Spence, Director of Media and Communications of the IPC, said on his
Twitter
page.
Sputnik Brazil contacted IPC representatives, who confirmed the information, saying that "the individual was quickly identified during the ceremony as a guest of the Belarus Secretary General who should not have been part of the marching party in the first place." The IPC declined to elaborate.
The IPC has cancelled the accreditation of the individual who carried the Russian flag as part of the Belarus delegation in the OC #Rio2016

— Craig Spence (@craigspence) 8 сентября 2016 г.
Media reports have, meanwhile, claimed that the Russian tricolor was allegedly carried by none other than Belarusian Minister of Sports and Tourism Andrey Fomochkin. Representatives of the Ministry, for their part, said that the move had not been planned in advance, describing it as an "impulse of the soul."
Commenting on the matter, Belarusian President Alexander Lukashenko emphasized that "this is the position of the state, as well as the position of the country's President and the head of our Paralympic Committee."
"We stand in solidarity with the Russian Paralympic team," Lukashenko said.
Meanwhile, the Russian President's spokesman Dmitry Peskov touted Fomochkin's action as "admirable", while Russian Foreign Ministry Spokeswoman Maria Zakharova called Fomochkin a hero.
They were echoed by Russian Sports Minister Vitaly Mutko, who described Fomochkin's step as "courageous."
The opening ceremony of the 2016 Rio Paralympics took place at Maracana stadium on September 7. The ceremony saw a member of the Belarusian delegation carrying the Russian flag during the parade. The flag was confiscated after the individual managed to carry it for some time.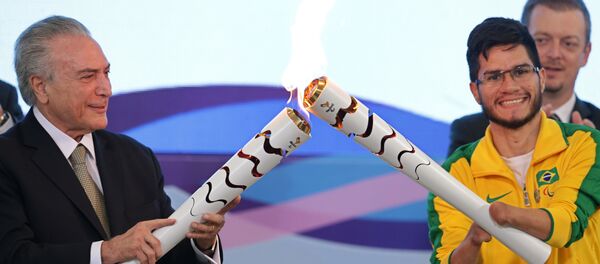 2 September 2016, 10:55 GMT
Russia was suspended from the Paralympics by the IPC in early August. The IPC cited the country's alleged failure to comply with the organization's anti-doping rules as the reason behind its decision.
Russia's National Paralympic Committee subsequently appealed the decision through the Court of Arbitration for Sport (CAS), but this appeal was rejected. Russia then appealed the CAS ruling in the Swiss Federal Supreme Court, but that appeal also failed.
Following the failure of the appeal, major Russian broadcasters decided not to air the 2016 Paralympic Games.