Young upstart Paul Shvets hopes to conquer the Russian market
Crimean wine maker Paul Shvets' vineyard is located 17 kilometers from Sevastopol. Long ago, ancient Greeks grew grapes in the area and traded them throughout the Mediterranean. These traditions are preserved even now: Sevastopol vineyards are considered the best in the Crimea.
Paul Shvets' winery in Crimea.
"Crimea is a cake, and Sevastopol is the cherry on top. The best USSR vintage wine was produced from these lands. Our limestone, closeness to sea and the mild climate are great for making high quality wine," said Shvets.
Paul started his carrier as a sommelier assistant in a Moscow restaurant. Later, he founded a wine trading company. Shvets travelled Europe to taste and export wine to Russia. After talking to different wine makers, he was struck with an idea to establish his own wine production.
"In 2007, I plowed the field, in 2008 we planted a vineyard, and in 2013 sold my first bottle of wine. Wine-making requires a long-term investment, even if you own a small area. I own 10 hectare of grapes. They produce about 50,000 bottles of wine," explained Paul.
Paul Shvets' winery in Crimea.
Paul's wine belongs to premium class and sells for 3,000 rubles (47 dollars).
"High-quality wine is defined by its complexity, harmony, discriminating taste and interesting aroma. Our motto is maximum quality. To match our slogan we use special wine making technologies, abide by prolonged subjection and use agro-technical practices at the vineyard. Meantime, our wine has gained popularity on the Russian market for its delicate and interesting taste," announced Paul.
Paul Shvets' winery in Crimea.
According to Shvets, Crimean wine makers are still in a state of transition. After the peninsula was joined with Russia, the production process became more complicated, while the market expanded.
"The Russian Federation did everything possible to help to smoothen the transition period," said Paul.
Alexey Akchurin's long history of winemaking
This year, winemaker Alexey Akchurin will celebrate his 37th wine making season. Alexey worked in wine industry his whole life, starting as director at the local winery more than three decades ago. Today, the he owns the vineyard "Chateau Lucien."
© Sputnik / Vasily Batanov
 / Go to the mediabank
Alexey Akchurin's "Chateau Lucien" winery in Crimea.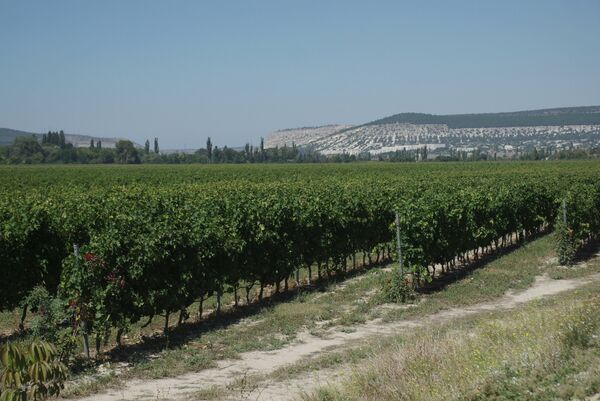 Alexey Akchurin's "Chateau Lucien" winery in Crimea.
"In 2007, I finally brought myself to establish a vineyard of my own. But before that, I travelled to countries famous for wine making, from New Zealand to Canada. Today, I own 64 hectares of vineyards, and I plan to plant six more," said Alexey.
Akchurin does not produce wine for sale, and is still experimenting with winemaking techniques.
"I do not have enough land for winery. Since 2010, I have been fighting for extra land next to the vineyard. With Ukraine it was impossible, but now everything will change. As soon as we receive land, my son and I are planning to build two wineries," explained Alexey.
© Sputnik / Vasily Batanov
 / Go to the mediabank
Alexey Akchurin's "Chateau Lucien" winery in Crimea.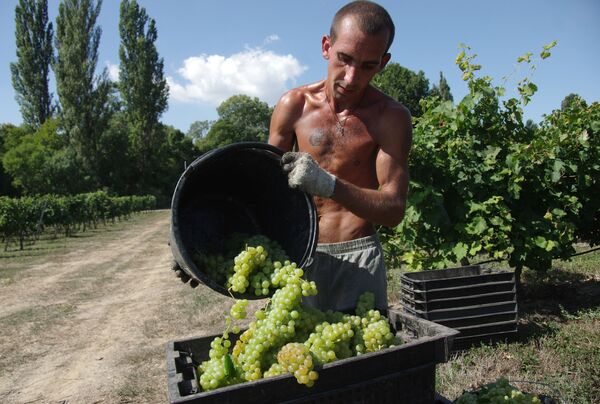 Alexey Akchurin's "Chateau Lucien" winery in Crimea.
In the future, the Russian winemaker plans to make premium wine. Bulk wine is the "money product."
"Some manufacturers use a minimum of their own grapes, do the cooking with god only knows what, after which they import grapes from Spain, Italy and South Africa, mix it all and introduce it in the market. This is what I call bulk wine. This kind of production is out of my interest," announced Alexey.
Alexey also works as a wine consultant at other winemaking ventures.
According to Akchurin, Crimea is the perfect place for growing grapes. It has a combination of a temperate climate paired with a rich regional culture and history,.
Choose the right wine
Buyers of Crimean wine need to be careful. Wine with a Crimean label might be bottled in Chelyabinsk.
"When buying, I advise you to look at the back of the label to see geographical location. There is no need to buy cheap brands," said Director of the analytic project Our Wine Dmitry Kovalev.
According to Kovalev, wine for sold for 150 rubles  is made out of low quality ingredients, mixed with spirts and water.
Be careful! Choose the right wine.
As Kovalev maintains, Crimean wine has a great outlook. The peninsula has all the necessary conditions for the creation of elite wine that can compete with Western products.
During the reign of Gorbachev there were 140 thousand hectares of vineyards, today – only about 30,000. Some of them are old and underfunded.
"We have opened a center training winemakers at the Moscow State University in Sevastopol. The course is called 'Laboratory of wine' for advanced training with involvement of foreign experts. In October, lectures will be given by specialist from Champagne. Despite sanctions, they feel that something great might turn out from it," said Kovalev.