"Both sides are currently trying to work out a common strategy, 'a common denominator' for the campaign in Raqqa," the Turkish professor of public and constitutional law added.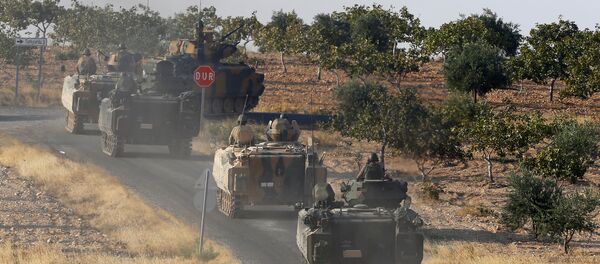 8 September 2016, 10:46 GMT
The operation to free Raqqa, the Syrian city that has been Daesh's de facto capital since January 2014, is largely viewed as key to defeating the brutal group which still controls major areas in Syria and neighboring Iraq.
Earlier this week, Turkish President Recep Tayyip Erdogan said that Turkey was ready to take part in a joint operation to liberate the embattled Syrian city. The initiative, he added, came from the United States. US President Barack Obama reportedly mentioned a possible joint campaign during a meeting with his Turkish counterpart at a G20 summit in China.
On Thursday, Turkish Defense Minister Fikri Isik told Reuters that the People's Protection Units (YPG) could not play a leading role in the offensive on Raqqa. The United States has relied heavily on Kurdish militias that form the bulk of the Syrian Democratic Forces (SDF) in its anti-Daesh efforts in Syria.
© REUTERS / Revolutionary Forces of Syria Media Office
Turkish army tanks make their way towards the Syrian border town of Jarabulus, Syria August 24, 2016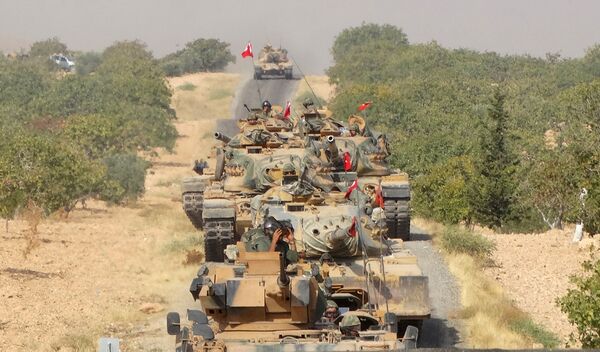 Turkish army tanks make their way towards the Syrian border town of Jarabulus, Syria August 24, 2016
©
REUTERS
/ Revolutionary Forces of Syria Media Office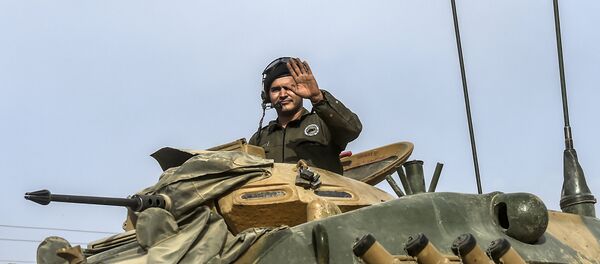 7 September 2016, 18:28 GMT
Ankara has been increasingly active in Syria, with the Turkish military launching a ground cross border operation on August 24, something that Turkish authorities are said to have been planning for more than two years. The offensive saw Turkish warplanes, tanks, artillery and special forces, as well as the Free Syrian Army push Daesh out of Jarablus and ensure that Kurdish fighters do not expand territories under their control to the west of the Euphrates.
The Turkish military is said to have secured a 90-kilometer (56-mile) stretch of land along the country's border with Syria, but it is ready to advance further south, Deputy Prime Minister Nurettin Canikli said on Wednesday.
Mithat Sancar suggested that the US and Turkey could have reached an informal agreement that while the Turkish military remains in areas close to Jarablus and does not move deeper into the Syrian territory, there will be no direct confrontation with other forces, including the Kurds.
"The most dangerous scenario for Turkey involves a war with the Kurds. Ankara understands that a direct military confrontation with the YPG will lead to a major deterioration of Turkey's relations with Russia and other unpredictable consequences," the professor said.
Mithat Sancar further added that the Turkish government wanted to play a more prominent role in Syria, but has "clearly overestimated" its capabilities and has settled for a limited engagement.
"Turkey's operation in northern Syria is a PR campaign for Turkish leadership aimed at improving its image in the world. But if Ankara crosses a line drawn by the US in Syria it will get into serious trouble," he asserted.