The Phlox was invented for engaging stationary and moving targets by high-explosive mortar shells as well as guided (Kitolov-2M) or high-explosive projectiles.
The first distinctive feature of the vehicle is that engineers managed to mount a heavy 120mm artillery piece on a cross-country truck chassis; usually, howitzers are track-based. This technical decision extended the weapon's range of action.
"The main edge of the Phlox is its mobility, terrain crossing capacity and cost-effectiveness. It can use all-purpose roads. We managed to install a powerful gun on wheels," designer-engineer Denis Kirishev told Sputnik.
The second advantage manifested in the Phlox is its increased self-supportability.
"The on-board ammunition stowage stands at some 80 rounds. This means, there's no need for an ammunition truck. The deployment time is just 30 seconds. If its electrical systems fails, the crew can use a manual weapon direction system," the specialist elaborated.
© Sputnik / Vasiliy Raksha
Phlox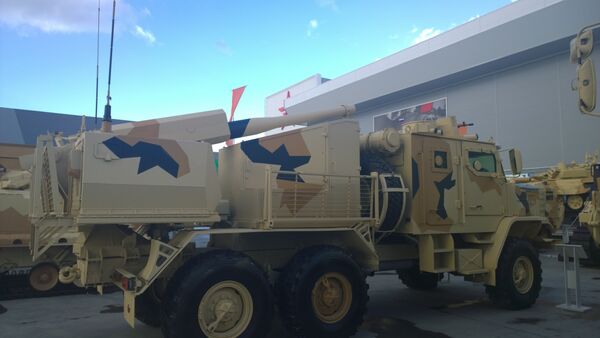 Phlox
© Sputnik / Vasiliy Raksha
The rate and range of fire depend on the ammo being used. The howitzer can fire up to 10 mines per minute at a distance of 7.5km and heave 8 projectiles per minute at an enemy located 13km away. The Phlox can even conduct direct fire at some angles.
Apart from weapons, the self-propelled howitzer features:
an armored deck structure to ensure the safety of ammunition;
an autonomous power supply unit (which comes handy when the main engine is out of work);
an onboard navigation and orientation system;
a soft-kill system shielding the vehicle from high-precision threats.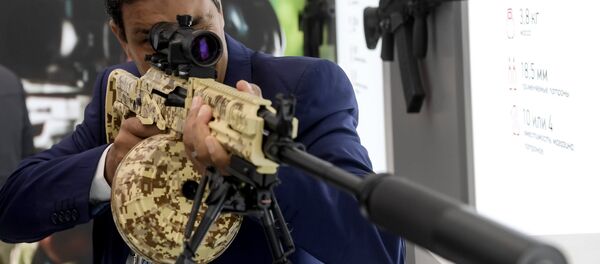 10 September 2016, 11:52 GMT
The crew of four (commander, driver, gun layer and loader) are seated in an armored cabin able to withstand 7.62mm gunfire as well as shell fragments. The commander can operate the artillery piece from the cabin although he usually does it at the gun. The vehicle also has a remotely controlled 7.62mm machinegun.
The Phlox is about to enter trials.
To sum it all up, Russia has developed a mobile, powerful and reliable piece of artillery.
The Army-2016 military exposition runs from September 6-11 to the west of Moscow.