Hillary Clinton finds herself headlong in what may be the political season's most meaningful controversy – despite the absurdity of some of her opponent's remarks earlier in the cycle – when she directly attacked "half" of Donald Trump's blue-collar voter base while speaking at a high-end fundraiser in Hollywood referring to these people as a "basket of deplorables" who are "irredeemable."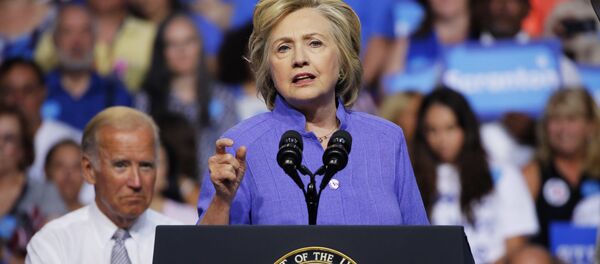 10 September 2016, 19:41 GMT
The comments, according to Clinton campaign sources, are not new for the First Lady who has used them frequently during fundraisers hosting the top 0.1% of the country's wealthiest figures and apparently she even told an audience on Israeli television that as many as 64 million Americans – with at least 40% in all polls showing support for Trump – belong to what she calls the "basket of deplorables."
Her remarks led to an immediate social media firestorm with the topic trending #1 on Twitter for nearly 20 hours before the mainstream media felt obligated to address the remarks albeit in what some see as a more limited manner than some of Trump's controversy. The comments came on the same day as her husband mocked "The Coal People" for being unemployed, down and out due in large part – according to the people of America's Appalachia region – to Bill Clinton's trade and environmental policies.
"You could put half of Trump's supporters into what I call the basket of deplorables. Right? The racist, sexist, homophobic, xenophobic, Islamophobic – you name it," said Clinton garnering laughter from her wealthy guests before saying that these people are entirely "irredeemable."
While controversy erupted, her campaign's Press Secretary Nick Merrill immediately defended the comments saying that it was their position that such "irredeemable" people make up at least half of Trump's following before hours later moderating their position.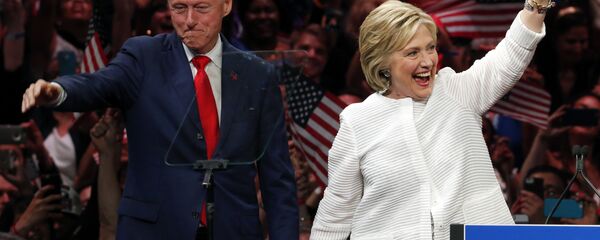 10 September 2016, 18:34 GMT
Clinton now says that she was "wrong" to say that the "basket of deplorables" makes up "half" of Trump's following, but renewed her attacks on what she thinks to be a substantial sum of his support. Many immediately pointed to the fact that Hillary was not apologizing for the comment that insulted people in the first place – the criticizing of what she appears to think are the unwashed masses.
Trump responded on Saturday afternoon saying, "Isn't it disgraceful that Hillary Clinton makes the worst mistake of the political season and instead of owning up to this grotesque attack on American voters, she tries to turn it around with a pathetic rehash of the words and insults used in her failing campaign?"