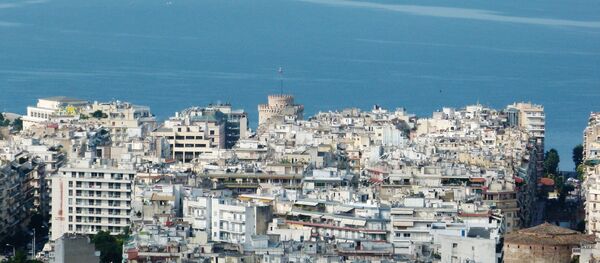 8 September 2016, 22:40 GMT
THESSALONIKI (Sputnik) — Organized by the pro-communist All-Workers Militant Front (PAME) trade union movement, the protest started off on the Aristotelous Square before demonstrators marched to the fair venue at the Thessaloniki International Exhibition & Congress Centre.
The building was secured by heavy police presence as Greek Prime Minister Alexis Tsipras gave a speech on the country's improving economy and the need to push ahead with austerity reforms at the trade event's opening ceremony.
Protesters demanded for the government to pull out of the bailout deal with Greece's international creditors and put an end to austerity measures demanded in exchange for unlocking bailout funds.
Some 5,000 people took part in the demonstration, according to the organizers.
The Greek economy has been severely strained for several years due to the country's multibillion-euro debt, accumulated after the 2008 world financial crisis.
Greece's international creditors signed an agreement with Athens last summer, approving a third bailout package worth about 86 billion euros ($97.3 billion) in exchange for highly unpopular austerity reforms, including pension cuts and tax hikes.