Hillary Clinton nearly collapsed on Sunday morning abruptly being swept away from a Ground Zero ceremony to commemorate the 15th anniversary of 9/11 with a half dozen staffers holding her up to prevent her from slamming head first into the pavement as she was dragged into a black van.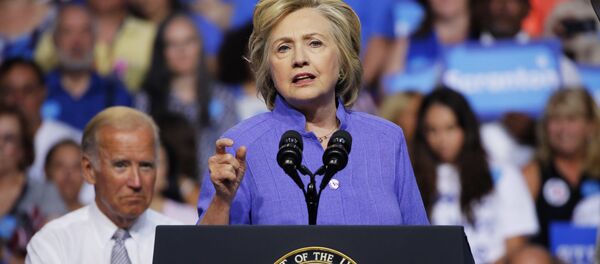 10 September 2016, 19:41 GMT
The video, posted on Twitter, shows the former Secretary of State wobbling back and forth almost uncontrollably reminiscent of the notorious seizure footage in which Hillary Clinton suffered uncontrolled spasms for 30 seconds in front of a pool of press reporters, leading to a horrified look on one AP journalist's face, before regaining her wits and being shuffled off by staffers – an incident that has gone viral, but went unreported at the time.
Failing to stay on two feet at the 9/11 memorial service will be hard for the Clinton campaign to downplay coming at a time when Democrats are already clamoring for Bernie Sanders to come back into the fold after Hillary's statements to wealthy donors discarding millions of Americans as "irredeemable" and what she calls a "basket of deplorables" highlighting what her opponents say is her elitist views.
It now raises the question whether Democrats have a Plan B should Clinton be unable to fulfill her campaign duties with Hillary's running mate Tim Kaine likely lacking the star power necessary to fend off the insurgent bid of bombastic billionaire Donald Trump. Many Americans are also left to ask whether a vote for Hillary Clinton may ultimately be a decision to make the relatively unknown Kaine the nation's Commander-in-Chief.
Highlighting the chaos in Democratic Party circles is a statement by Bakari Sellers, a Hillary Clinton surrogate and CNN political contributor who openly said "Does she need to prove more [medical records]? That is a legitimate question to ask."
Political reporter for Time Magazine reports that the former Secretary of State will be temporarily removing herself from the campaign trail in light of the most recent incident and returning home to Chappaqua after being rushed to her daughter Chelsea's apartment following the incident.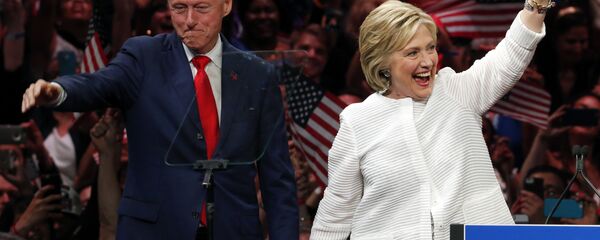 10 September 2016, 18:34 GMT
Although Clinton emerged saying that she "feels great" and her campaign has gone into damage control mode suggesting that the incident was merely a bout of dehydration, Hillary may soon be fending off calls by her own party to drop out of the race leaving the door wide open for either Bernie Sanders or Joe Biden to replace her.
Democratic Party bylaws stipulate that in the event that a presidential nominee drops out due to health related or other reasons, a special meeting would be called by the chairperson to find a proper replacement. It is also possible that Congress could move to delay Election Day in the event that the decision occurs too close to November 8.
To date, a nominee for a major party has never withdrawn or died prior to an American election with the closest historical corollary being Vice President James Sherman who died of kidney disease six days before the 1912 election – his name remained on the ballot and the election proceeded. Watching the video below, it is hard to know whether or not the Democratic nominee may be the first to bow out in history.
​