On Friday, talks between Russian Foreign Minister Sergei Lavrov and his US counterpart John Kerry resulted in a package of documents on the Syrian crisis. According to Washington, the agreement will be stable only if Damascus and opposition forces will observe it.
"As I see, details of the agreements are not clear so far. But I don't think the US is trustworthy. The Americans wanted to negotiate in Geneva in August but then the Syrian Army made advances and they started to delay talks. The US needs a pause in Aleppo to help its allied groups in eastern Aleppo," George Messi from the American University of Science and Technology in Beirut, told RIA Novosti.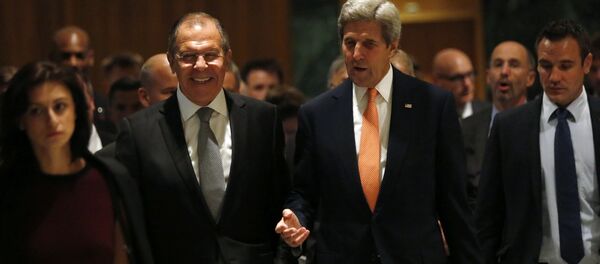 11 September 2016, 08:00 GMT
According to the expert, armed groups in eastern
Aleppo
are unable to fight the Syrian Army. If a ceasefire is established those militants will lose ground in Aleppo, he said.
"Probably, airstrikes in Aleppo during militants' command meetings also played a role. I think the US is seeking alternatives," Messi said.
The analyst noted that there were previous instances in which the US had violated obligations on the Syrian settlement.
"No one should trust them [the US]. But Russia has no other choice so far," he said.
Messi suggested that a temporary ceasefire would first of all negatively affect the Syrian Army and its allies.
According to him, this already happened in May and June when Western-backed groups used a ceasefire to regroup and deploy reinforcements.
During a press briefing in Geneva, John Kerry underscored that a ceasefire regime should be imposed in Aleppo too. Otherwise, the Russia-US agreement will not work.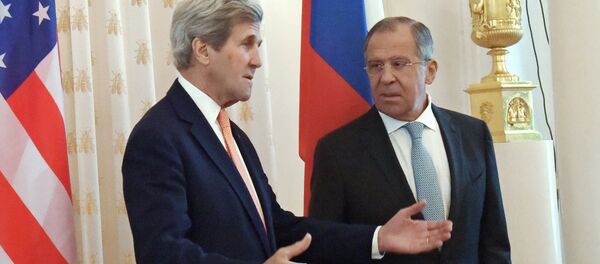 10 September 2016, 17:35 GMT
According to the US State Secretary, a demilitarized zone should be created in Aleppo, allowing for humanitarian operations.
According to the agreement, a ceasefire is expected to come into force on September 12.
A temporary ceasefire in Aleppo does not make sense until the city is cleared of radical militants, Syrian political analyst and lawmaker Fares al-Shihabi said.
Commenting on the Russia-US agreement on Syria, he said that taking into account the recent advances of the Syrian Army many Syrian people do not understand a ceasefire.
"The majority of Syrians don't want a ceasefire, especially taking into account the army's advances against Daesh and al-Nusra Front. But there are some complicated political processes involved. Damascus trusts its partners, especially Russia. We hope that the agreement will have a positive effect and that Aleppo will be cleared of terrorists," he told RIA Novosti.