ZHANJIANG (Sputnik) — China is hosting this year's joint naval exercises with Russia. A total of 18 ships and supply vessels, 21 aircraft and over 250 service personnel from PLAN and the Russian Navy's Pacific Fleet are taking part in the Joint-Sea 2016 naval drills on September 12-19 in the South China Sea. Russian vessels arrived earlier in the day.
"We will thoroughly take part in the exercises and execute the tasks set by our superiors. The conditions of the exercises will be as close to real combat as possible and will aim to increase our common security capabilities," Wang said.
The vice admiral expressed hope that Russian and Chinese crews will learn from each other's experience and improve friendly cooperation.
Speaking at a welcoming ceremony for the arriving Russian ships, Russian Navy Deputy Commander-in-Chief Vice Admiral Alexander Fedotenkov said that the two countries are improving their defense capabilities against potential third party aggression.
"Our cooperation is not directed against anyone, but it seeks to defend out common interests, ensure security across all areas of the world's oceans…This is cooperation in the fight against piracy and in support of navigation," Fedotenkov said.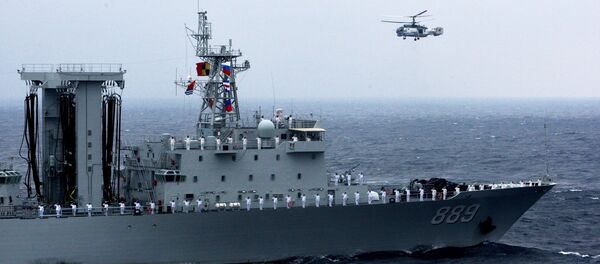 12 September 2016, 03:59 GMT
Russia's Admiral Vinogradov and Admiral Tributs Udaloy-class destroyers will take part in the exercise alongside several other ships. Activities will include the defense of anchored ships, search and rescue operations and retaking seized vessels. Joint missile and artillery strikes will be also carried out against marine targets. The drills will conclude with a simultaneous amphibious and air landing operation on an island captured by a simulated enemy.
The previous Russian-Chinese Joint Sea-2015 naval exercises were hosted by Russia and took place in Russia's Far Eastern Primorsky Territory. The active phase of the drills involved 500 marines, 22 warships and support vessels, 15 air vessels, 40 units of equipment and 2 drones.
Russian-Chinese joint military exercises have been taking place regularly since 2005.