There are currently several hundred members of US special forces in the Philippines, undertaking training of local forces in an effort to combat Islamic insurgency in the south of the country. 
The force has been drawn down, but many people in the Philippines would prefer the US to stay out of the country altogether, analyst Dr Joseph Chang told Radio Sputnik.
On Monday Philippines President Rodrigo Duterte ordered the US troops to leave the country, in a reflection of the popular mood.
"A considerable segment of the population in the Philippines does not want to see foreign troops, including US troops, in the Philippines," Chang said.
"At the same time, the new president apparently wants to establish his credentials as a nationalist president, and he would also like to reduce the Philippines dependence on the US in the security arena."
President Duterte is inclined to pivot towards Beijing, in search of development aid and a compromise on the South China Sea.
"The President would probably like to renew negotiations with Beijing regarding the territorial disputes in the South China Sea, and with the launch of the negotiations, he may like to improve economic ties with Beijing, and probably try to attract foreign aid from Beijing to the Philippines," Chang said. 
Since 2002 the US has sent more than 1,000 special forces to assist the Philippines military fighting Islamic insurgency in Mindanao, the southernmost major island of the Philippines.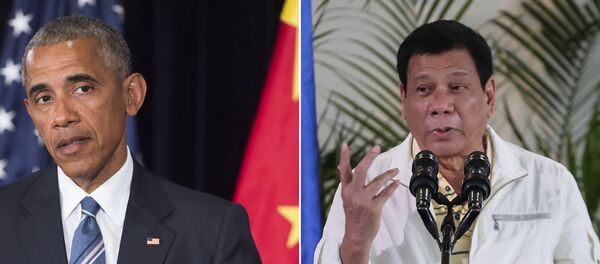 6 September 2016, 16:23 GMT
However, on Monday President Duterte appeared to suggest that their contribution to national security does more harm than good.
"I do not want a rift with America. But they have to go. It will only inflame (the situation). If they (Americans) are seen there, they will be killed," Duterte said.
"If they see an American, they would kill him.  They would demand ransom then kill him. Even if you're a black or white American as long as you are an American, (they will kill you)," he added.
In April US Defense Secretary Ashton Carter announced that US troops and military equipment would be sent on regular rotations to five bases in the Philippines.
However, after President Duterte was elected the following month, it remains to be seen whether these planned rotations will actually take place.
The US had permanent bases in the Philippines until 1992, but was forced to withdraw after the Senate in Manila voted against renewing a treaty allowing US troops to stay in the country.