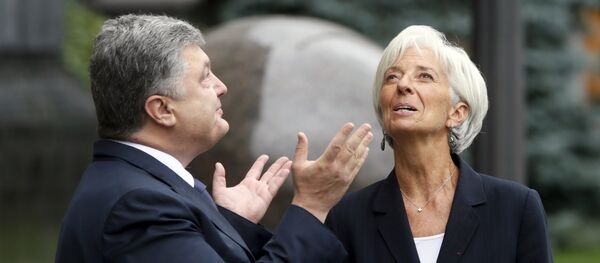 14 September 2016, 21:46 GMT
WASHINGTON (Sputnik) — The executive board of the International Monetary Fund (IMF) has agreed to provide a new $1-billion tranche of financial aid to Ukraine, according to a statement issued by the organization.
"The Executive Board of the International Monetary Fund (IMF) today completed the second review of Ukraine's economic program supported by an arrangement under the Extended Fund Facility (EFF). The completion of this review enables the disbursement of SDR 716.11 million (about US$ 1 billion), which would bring total disbursements under the arrangement to SDR 5,444.21 million (about US$7.62 billion)," the statement said on Wednesday.
On Monday, Russian Finance Minister Anton Siluanov said Moscow would vote against the new tranche of financial aid to Ukraine.
According to IMF rules, a country can be denied aid unless it settles its debts in a good faith with those who have loaned it funds.
Russia filed a lawsuit against Ukraine in the London High Court in February after Kiev defaulted on repayment of a $3-billion loan that Moscow granted to Ukraine in 2013 under the former Ukrainian president Viktor Yanukovych.
On March 11, 2015, the IMF approved a four-year program of financial aid to Ukraine, which stipulates a $17.5-billion loan to be paid out in a number of installments over the next four years and originally open for reviewing on a quarterly basis.
The Ukrainian government has to implement new economic policies for the IMF to disburse the funds.