In his annual State of the European Union address to the European Parliament in Strasbourg, Mr. Juncker warned that the European Union is facing "existential threats" in a battle for survival against nationalism in Europe.
He suggested that with the unprecedented decision, made in June, of the UK to exit the EU bloc, the remaining organization must "be stronger" to try and counteract further nationalist voices from calling for the dismantling of Brussels powers. Instead, Junker is calling for the development of a common EU military force, to help the 28-member bloc be a more influential player on the world stage and less reliant on the US-led NATO, to which 22 EU member states also belong.
Joint Force, EU Army, Brexit Effect
"We must have a European headquarters and so we should work towards a common military force," Mr Juncker told the European Parliament.
"From an economic point of view, bringing together our military resources could be clearly justified. We could use cooperation because the lack of cooperation is something that is costing Europe 20 to 100 billion euros a year."
There have been ongoing rumours of plans to create an EU Army for a couple of years, which critics say would amount to a dangerous increase in the level of control that Brussels would hold over its member states.
However, following Juncker's speech on Wednesday, EU officials stressed that a joint EU military force would not be the same thing as an EU army.
Currently, the UK's Brexit decision to withdraw from the European Union means the EU is about to lose its militarily most capable member state.
The Syrian Situation
Juncker also announced that the European Commission will propose a common European Defense Fund, "to boost military research and innovation" by the end of the year. He said that the EU should set it's sights on having a greater input in the management and resolution of global conflicts, including the Syrian civil war.
"The consequences for Europe of this conflict are immediate but where [is] the Union, where are the member states, in the negotiations to try to solve this conflict?" Juncker asked.
"I'm asking for us to draw up a European strategy for Syria," he added.
'Renegade' Members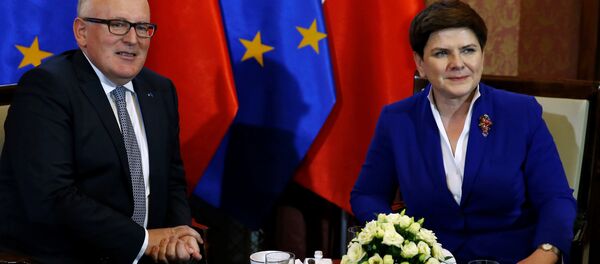 14 September 2016, 14:50 GMT
Juncker also acknowledged that there is currently a strong mood of resentfulness against the powers of Brussels in several member states. 
Major splits have emerged between EU countries, particularly in the wake of Brexit and the ongoing migrant crisis. Polish prime minister, Beata Szydlo, has called for "deep reforms" to cut back the power of "an authoritarian" Brussels, while Luxembourg's Foreign Minister Jean Asselborn has called for Hungary to be totally expelled from the EU over its hardline treatment of migrants.
Juncker used his speech to insist that such divisions can not be allowed to derail the EU as a whole.
"EU integration cannot be left to the interests of individual member states alone," said Mr Juncker.
"A year ago I stated that the state of the European Union leaves much to be desired… It still applies.
"The scope in which we cooperate together is far too small.
"We want to construct. We want a better Europe. Europe is not going down the path of nationalisation, it can never become that type of national area, but there splits out there and often fragmentation exists where we need further effort from the union, and that is leaving room for galloping populism."
"We can't accept that because populism doesn't solve problems. Populism creates problems, and we have to be aware of that and protect ourselves against it."
Despite such repeated insistence that the EU project will be able to contain such populist threats, the next couple of months could see the rise of several such threats.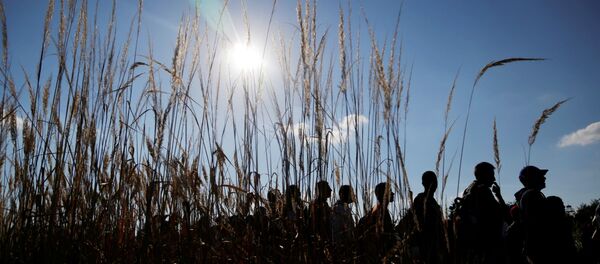 12 September 2016, 10:03 GMT
Hungary is to hold a referendum in October on whether to reject the EU's key policy on mandatory migrant quotas.
Austria, meanwhile, will hold a re-run of its presidential election on October 2.
The growing frustration over the EU's perceived inability to get a handle on the migrant crisis, is widely believed to have led to a surge in popularity for the euroskeptic, anti-immigrant party, FPÖ. It's candidate, Norbert Hofer, is currently leading in the polls,and already highly critical of the EU.
Juncker's annual address comes just days before an EU conference in Bratislava, Slovenia — without the UK — where EU members will meet to discuss how best to manage the continuing challenges that are facing the union.