MOSCOW (Sputnik) – The Russian Defense Ministry launched the first ever online live feed to monitor the Syrian city of Aleppo filmed from the ground and by an unmanned aerial vehicle (UAV) on its website Thursday.
"In order to ensure the transparency of the ceasefire regime's implementation by the parties on the territory of the Syrian Arab Republic, the Russian Defense Ministry website launched on September 15, 2016, an online broadcast of the situation in Aleppo with surveillance cameras," ministry spokesman Igor Konashenkov said.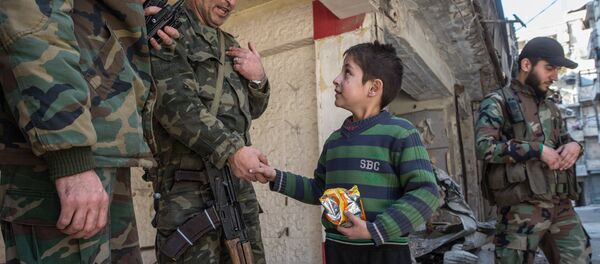 22 February 2016, 10:48 GMT
The 48-hour truce brokered by Russia and the United States late last week entered into force at sundown Monday, subject to another extension if the parties adhere to it.
"Also for the first time an open online real-time broadcast of the situation in the eastern districts of Aleppo filmed by a UAV has been arranged," Konashenkov added.
The ministry spokesman noted that the number of locations to provide online monitoring of the situation in Syria was planned to be increased in the future.