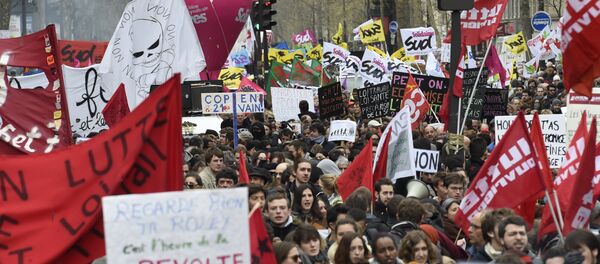 MOSCOW (Sputnik) — According to France Info broadcaster, as many
as 4,000 marched through the streets of Nantes
, while people in masks threw objects at the buildings near the city's prefecture, according to the police. Police used tear gas and water balloons to disburse demonstrations, the channel added.
The broadcaster added that the mass demonstrations were also held in the cities of Rouen, Saint-Etienne, and Belfort, as well as the commune of Gueret.
​Scores of flights were reportedly canceled as air traffic controllers staged strike in a bid to to force the government to cancel the changes introduced in July.
The labor bill has given rise to multiple protests across the country in the past months. Among the reforms proposed by Prime Minister Manuel Valls' government are highly unpopular attempts to increase daily working hours and simplify firing procedures.