MOSCOW (Sputnik) — According to the study carried out by the Institut Montaigne think tank for the JDD newspaper, 28 percent of the French Muslims says that the laws of the republic do not correspond to the values of their religion. At the same time, 46 percent fully support secularization or are in the process of completing the integration into the French society, but have not abandoned their religious values.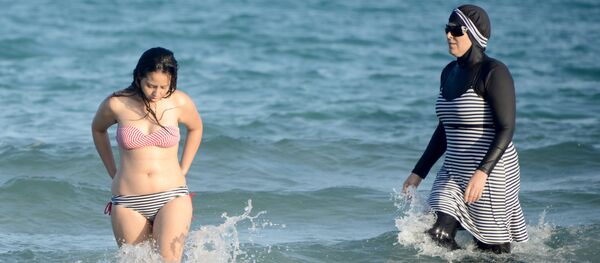 25 August 2016, 22:05 GMT
Over a third of French Muslims — 37 percent — believe that girls need to be allowed to wear "full-body veils" such as the burka and the niqab at schools and universities.
Halal meat consumption appears to be an important issue for Muslims in France, with 80 percent of practicing and 67 of less religious Muslims believing that children should be eating halal in school canteens, the study said.
Earlier this year, a number of French Riviera towns introduced bans on the so-called burkinis, Muslim full-body swimwear. The ban was later overturned in the town of Villeneuve-Loubet, after France's highest administrative court ruled that the town had no right to introduce the ban. The ruling set a legal precedent for other French towns.