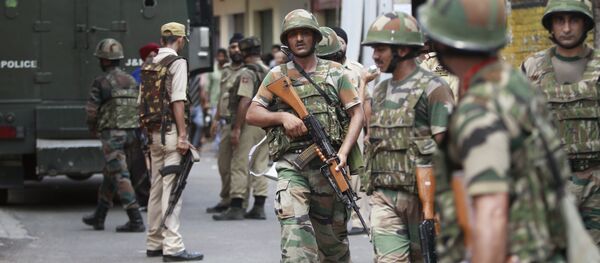 18 September 2016, 06:29 GMT
MOSCOW (Sputnik) — Four terrorists reportedly attacked the Army Brigade's headquarters in Kashmir's Uri at 5:30 a.m. local time (00:00 GMT). The attackers were later killed, and the military is currently carrying out operation to find possible terrorists' accomplices.
"We strongly condemn the cowardly terror attack in Uri. I assure the nation that those behind this despicable attack will not go unpunished," Modi wrote in his Twitter account.
No group has yet claimed responsibility for the attack so far. The Army has no information whether these men were local militants or infiltrators across the India-Pakistan Line of Control.
The region of Kashmir has been disputed by India and Pakistan since the dissolution of British India and the establishment of the two states in 1947. Some local residents, most of them Muslims, especially those residing in the Kashmir Valley, call for greater autonomy or even independence from India.