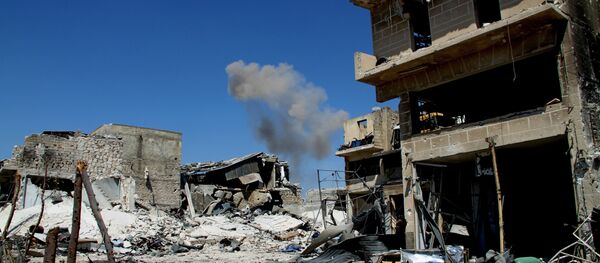 19 September 2016, 18:44 GMT
UNITED NATIONS (Sputnik) — A UN and Syrian Arab Red Crescent convoy was struck while delivering aid in Syria's Aleppo governorate, UN Secretary-General's deputy spokesperson Farhan Haq told Sputnik on Monday.
"Yes, we can confirm it happened to our convoy travelling to Orem, in Aleppo governorate," Haq stated.
Earlier on Monday, the United Nations' Office for the Coordination of Humanitarian Affairs (OCHA) reported that an interagency aid convoy crossed the conflict line in the Big Orem area of the Syrian city of Aleppo.
Syrian Arab Red Crescent spokesperson Stephen Ryan told Sputnik that the organization had received news that one of its structures in rural Aleppo had been attacked.
"The situation on the ground is very chaotic at present, and we are still getting details," Ryan stressed.
According to media reports, the convoy was hit by airstrikes or mortar fire after offloading aid.
The UN convoy was dispatched earlier in the day to deliver relief to the beleaguered provinces of Aleppo and Homs for over 160,000 people.
Despite the US-Russia deal reached on September 9, fragile nationwide ceasefire in Syria in force since September 12 is undermined by numerous outbreaks of hostilities.
Earlier on Monday, the Syrian army declared the end of ceasefire regime blaming militants for numerous violations that made the cessation of hostilities unreasonable.