Clarke, Associate Professor at the National Security College at Australian National University, and Pantucci, Director of the International Security Studies at the Royal United Services Institute (RUSI), offered two reasons behind this trend.
"One is China's concern at the numbers and links of Uighur militants from its restive province of Xinjiang participating in the Syrian conflict. The other is its desire for geostrategic stability in the Middle East as it seeks to consummate its One Belt, One Road strategy," they said.
Of particular concern to China is the Turkistan Islamic Party (TIP), formerly known as the East Turkestan Islamic Movement (ETIM). Beijing has denounced the organization as a violent separatist movement responsible for hundreds of terrorist attacks. Russia and the United States have also designated the group as a terrorist organization.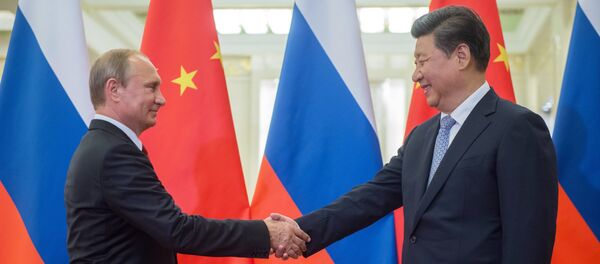 9 September 2016, 09:52 GMT
TIP has been active in Syria, particularly in the provinces of Aleppo, Idlib and Latakia. It is part of the
Army of Conquest
(Jaish al-Fatah), an umbrella organization that was created in March 2015, with al-Nusra Front and Ahrar ash-Sham forming the bulk of its forces. It is mainly active in the Idlib province, but has also carried out operations in the provinces of Latakia and Hama. 
At the same time, the TIP "had established a well-documented presence on the battlefield in Syria, with the group releasing a number of videos detailing its combat role fighting alongside" al-Nusra Front, the analysts detailed.
"This threat from TIP in particular is one that is therefore becoming of much greater concern for Beijing. Yet it is not clear who is focused on fighting TIP on the ground in Syria. Western powers fighting in Syria are for the most part focused on ISIS and less focused on the groups fighting against the Assad regime, like TIP."
One Belt, One Road, Chinese President Xi Jinping's signature initiative, is aimed at building an economic "silk road" linking Asia and Europe. The massive infrastructure and investment project is meant to enhance Beijing's influence in Eurasia. However, the Syrian conflict and the "current fracturing of the Middle East" that the years-long war has contributed to are the main obstacles to "China's ability to make this vision a reality," the analysts noted.
Unlike Washington, "Russia has been firm in its commitment to root out what it calls the 'terrorist' threat there in support of the regime in Damascus, and Beijing has been impressed by the manner in which Russia's decisive moves have had an effect that years of attrition on the battlefield failed to achieve," they added.
As a result, "Beijing may now have arrived at the conclusion that supporting Assad and taking sides with Russia is the most viable option to effectively combat the growth of TIP," they said.