MOSCOW (Sputnik) – US Secretary of State John Kerry, Japanese Foreign Minister Fumio Kishida and South Korean Foreign Minister Yun Byung-se met on the sidelines of the UN General Assembly in New York on Sunday.
"The Ministers noted that the DPRK's flagrant disregard for multiple United Nations Security Council Resolutions expressly prohibiting its ballistic missile and nuclear programs requires even stronger international pressure on the regime. North Korea's provocative actions are further deepening its isolation and undermining the needs of its people, who suffer greatly at the hands of the regime," the statement said, as quoted by the US State Department.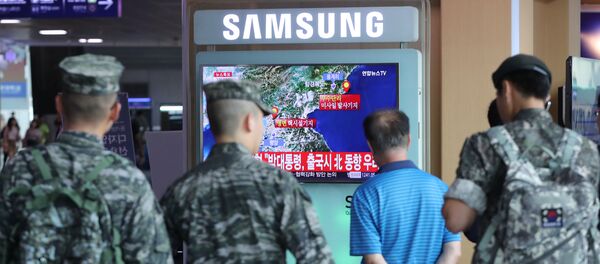 16 September 2016, 21:38 GMT
According to the statement, the officials discussed the UN Security Council's work on imposing more sanctions against North Korea and "other possible measures of their own, in particular ways to further restrict revenue sources for the DPRK's missile and nuclear programs."
On September 9, Pyongyang carried out a nuclear test at its northeastern nuclear test site. The nuclear experiment is believed to be the fifth and the largest since North Korea started pursuing nuclear and ballistic missile programs, drawing condemnation from the international community.