The video shows that the UN aid convoy was accompanied by a terrorists' off-road vehicle with a large-caliber mortar launcher, the Russian Defense Ministry spokesman said.
"The examination of the video footage made via drones of the movement of the humanitarian convoy in areas controlled by militants in the province of Aleppo has revealed new details. The video clearly shows how terrorists are redeploying a pickup with a large-caliber mortar on it using the convoy as a cover," Maj. Gen. Igor Konashenkov said.
He said that "it is unclear yet who accompanies whom: the [pickup with a] mortar accompanies the convoy with "White Helmets" volunteers or vise versa. And most importantly, where did the mortar disappear near the destination point of the convoy and what was the target of its fire during the convoy's stop and unloading?"
On Monday, the United Nations' Office for the Coordination of Humanitarian Affairs (OCHA) said that the aid convoy crossed the conflict line in the Big Orem area of the Syrian city of Aleppo.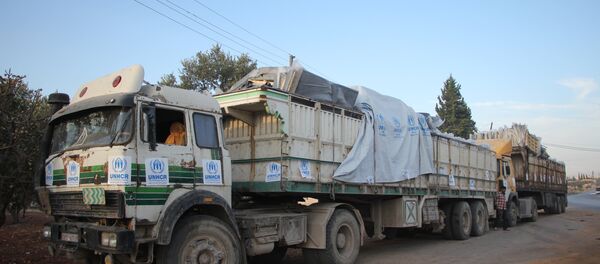 20 September 2016, 11:52 GMT
Later in the day, UN officials stated that the convoy had been
shelled
and there were
casualties
.
Earlier in the day, the Russian Defense Ministry said that neither Russian, not Syria aircraft carried out strikes against the UN aid convoy, emphasizing that the
examination of video footage reveals no signs of an ammunition strikes on the convoy and it seems to be set on fire.
The ministry emphasized that the perpetrator of the fire, as well as his goal may be known by members of the "White Helmets" organization that allegedly has connection to al-Nusra Front terrorists who have "accidentally" been at the right time and in the right place with cameras.
According to the official, al-Nusra Front terrorist group carried out an artillery attack on the southwestern suburb of Aleppo using multiple launch rocket systems.